Penn
A few prehistoric artefacts have been found in Penn. These include Lower to Middle Palaeolithic handaxes found at Knotty Green and at The Little House on Penn Road; a Neolithic polished axehead on Penn Street Road; a Neolithic scraper and knife found in the garden of Madeley on Penn Road; and Neolithic to Bronze Age flint scatters between Penn Street and Winchmore Hill, at Marrod's Bottom and Holmer Green. Three ring-ditches, possibly the ploughed out remains of Bronze Age round barrows, can be seen on aerial photographs near Gatemoor Wood.
A possible Roman building was found in the nineteenth century near Hazlemere Turnpike. It had a flint arch and hypocaust and floor and roof tiles were also found. A ditch containing Roman pottery was found in Brickfield, Hazlemere. A Roman pot was found on Wycombe Heath, north of Penn Wood in the nineteenth century. Some Roman and medieval metalwork, including a Roman key, was found in Potter's Field at Winchmore Hill in the early twentieth century. A possible Saxon burial was found at Deadman Danes Bottom.
There were several manors in Penn parish in the medieval period. Penn manor was split in 1222. The new manor was called Seagraves. Seagrave Farm is now sixteenth to seventeenth century, though there are seventeenth century records of a very old manor house here and of a fourteenth century dovecote. Puttenham Manor is recorded from the fourteenth to the sixteenth century and Puttenham Place Farm is fifteenth to sixteenth century in date. Beelings Manor is only recorded from the sixteenth century but there is a fifteenth century hall incorporated into Baylin's Farm in Knotty Green that may be part of a medieval manor house.
Holy Trinity Church in Penn was probably built with the wealth generated by the tiling industry. It was built between the thirteenth and fifteenth century and has a fourteenth to fifteenth century wall painting of the Doom. Two graves lined with Penn tiles were found in the churchyard when digging a drain. Bottom Farmhouse also dated to the medieval period, being fifteenth century in date. 1-2 Yew Tree House, once an almshouse, also incorporates a fifteenth to seventeenth century great hall.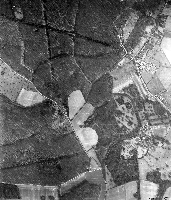 There is a windmill mound in the grounds of Penn House that has been dated to the fourteenth century from finds of pottery, brick and tile found in a trial trench. A few medieval earthworks still exist, mainly in woodland environments. A park pale, the boundary bank around a deer park, has been identified at Seagraves Farm; an enclosure of an uncertain date, but possibly medieval, has been found in Larches Wood; woodland banks and sawpits have been found in Hogback Wood; and there are medieval boundary banks and hollow-ways in Penn Wood as it has been a managed woodland from the medieval period. There are also nineteenth century features such as a ha-ha and rhododendron drives. In the Second World War the wood was used as an army camp and then to house Poles before resettlement.
Penn was famous in the medieval period for its tiles. Penn Tiles have been found decorating the floors of medieval Windsor Castle. They are recorded as working in the fourteenth century. Several fourteenth century tile kilns have been found in excavation or suggested from surface finds. One kiln is suggested from debris found in 1939 at Stratford's Cottage in Church Road; a kiln was found in the garden of Allandale; 152 fragments of floor tile were found at Yew Tree Cottage and a clay pit was fund next door at Orchard House; floor tile was found at Dell Cottage; medieval pottery and tile found in Pugh's Wood suggest the site of a kiln; medieval tiles were found in what is now the forecourt of Winter's Garage between 1907 and 1933; fourteenth to sixteenth century pottery and tile was found fieldwalking at Puttenham Place Farm; medieval tile and pottery were found in an evaluation at Stumpwell Cottage; and a kiln was found in excavation in the garden of April Cottage.
Pottery and tile-making carried on to some extent. Finds of pottery from Yonder Lodge on Elm Road suggest the presence of a sixteenth to seventeenth century kiln and a post-medieval kiln was excavated at Rose Cottage. A kiln is noted on a nineteenth century map at Coleshill Lane and in business directories. There was a pottery associated with the Potter's Arms at Winchmore Hill; a nineteenth century brick and tile works is recorded at Penn Street; a seventeenth century brickworks was found at Glory Farm while digging a swimming pool; and there are eighteenth century records of a brickworks and lime kilns on Wycombe Heath.
Many of the listed buildings in the parish date to the seventeenth and eighteenth centuries. The eighteenth century toll-house at Hazlemere crossroads was demolished in 1934. Later centuries also brought new religious denominations. A Particular Baptist Chapel was built in the nineteenth century on Beacon Hill, but is also now gone. The nineteenth century Providence Chapel is still standing. The Church of the Holy Trinity in Penn Street was also built in the nineteenth century. Even the red telephone box is listed, as it is based on a classic 1935 design.
---