Ivinghoe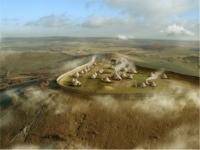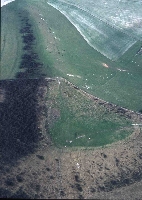 The most obvious prehistoric monument in Ivinghoe is the Beacon. This hillfort seems to date from the Late Bronze Age. Bronze Age pottery and animal remains were found in construction work in the 1930s and pottery and animal bones were found in excavation in the 1960s. House platforms, a midden and a hollow-way were identified, and a possible palisade was found in geophysical survey. One of the most recent finds was a Bronze Age sword, found illegally by a metal-detectorist.
There are also earlier remains on the Chiltern ridge that ends with the promontory hillfort, that may suggest it was a special place for many centuries before Ivinghoe Beacon was constructed. One Mesolithic flint core has been found in Ivinghoe, suggesting a minor presence at that time. Neolithic flint flakes were found in Coombe Hole. Several Early Bronze Age barrows have been surveyed within and south of Ivinghoe Beacon, along with two hollow-ways and two cross-dykes of unknown date. A possible Neolithic cursus or long mortuary enclosure was also identified close to the Beacon in geophysical survey. A late prehistoric ditch and bank were surveyed and investigated in trial trenching in Incombe Hole.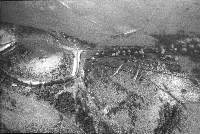 Two other possible Bronze Age barrows exist at Gallows Hill and Druids Mount, although the latter may have been a tree ring. Gallows Hill rendered human bones in a nineteenth century excavation and in ploughing, and was probably re-used as a gallows in the post-medieval period. Several ring-ditches, the crop-marks of ploughed out Neolithic to Bronze Age barrows, have been recorded in aerial photography near Fairview Farm and very close to Cheddington, where there also seems to be an enclosure, possibly of the same date. An Early Iron Age to Roman enclosure was recorded in excavation at Ward's Coombe in advance of tree-planting.
The Roman period is partly represented by a few stray finds, such as pottery found above Combe Hole, near Duncombe Farm, some from a medieval well at Ivinghoe Aston and a fragment of Roman quernstone from Ringshall. Some work done at Ward's Coombe includes Roman pottery and tile found in field-walking and a possible Roman enclosure associated with pottery and metalwork and an Iron Age to Roman cemetery in excavation. Roman pits and pottery were found in stripping on the Kingsbury to Buncefield pipeline. Roman ditches, pits and post-holes were also identified in a pipeline investigation at Butler's Farm. Trial trenching and field survey on Ivinghoe Common have identified a possible Roman enclosure associated with pottery. A Roman or medieval field system associated with hollow-ways has been identified on the Ashridge Estate.
Saxon activity has concentrated around the earlier remains. A possible Saxon burial was found in the top of one barrow to the south of the Beacon and a possible seventh century cemetery was found in the interior of the Beacon.
There are several medieval monuments that are recorded in historical documents, such as a windmill dating from the thirteenth to seventeenth centuries; a barn attached to the manor in the fourteenth century; the Ivinghoe Fisheries, also mentioned in the fourteenth century; thirteenth to eighteenth century records of a watermill in the parish; a fourteenth century record of the Grange; twelfth to nineteenth century records of Berrystead House as a manor house; thirteenth century records of a house at Great Seabrook; fourteenth century records of a manor house, private chapel and dovecote at Horton Hall; fourteenth century records and field-name evidence of a chapel in Chapel Hill Field which was still standing in the sixteenth century; and thirteenth to nineteenth century records of Elsage Manor, now Elsage Farm.
Several medieval monuments are known from archaeological investigation such as medieval lynchets on the Chiltern scarp recorded in field survey; a medieval to post-medieval moat, fishpond and house platform at Ford End Farm; a moat at Great Seabrook known from field survey; a deserted medieval village at Little Seabrook Farm; a moat or fishery at Grove Farm; moat at Horton Hall; a fourteenth to fifteenth century well at Ivinghoe Aston that contained prehistoric and Roman artefacts as well as medieval ones; a moat and house platforms at Tithe Farm; and a medieval to post-medieval enclosure at Yardley Farm recorded in aerial photography. Medieval pottery has also been found in field-walking surveys around Duncombe Farm and a fifteenth century papal seal was found in the allotments at Great Gap.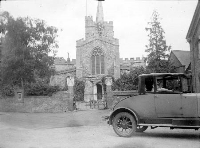 Some of the standing buildings date to the medieval period. The oldest is the church, St Mary the Virgin with a thirteenth century nave and fourteenth century tower and aisles. It also contains a fifteenth century effigy of an earlier priest. One of the secular buildings rivals the church in date, however. 12 & 14 Station Road was a thirteenth to fourteenth century cruck-built hall house but was encased in brick in the seventeenth century and divided in two. The King's Head and Pendyce House was also a medieval cruck-built house with a sixteenth to seventeenth century extension and was recased in brick in the eighteenth to nineteenth century. There is a medieval to post-medieval tithe barn at Clipper Down and Brook End is thought by local tradition to have been a medieval to post-medieval courthouse.
Many of the other buildings, however, date to the seventeenth century and are timber-framed, such as Hi-Da-Way, Beacon Cottage or Dibblock Cottage. The sixteenth century Town Hall was used as a courthouse and jail and was intended for use as a workhouse, but never was. Little Seabrook Farm was an eighteenth to nineteenth century pest house. The Strict Baptist Chapel dates to the nineteenth century. Two great houses with associated gardens are known from historic records and aerial photograph evidence at The Warren and The Park. The beacon on Ivinghoe Beacon is now preserved at the church.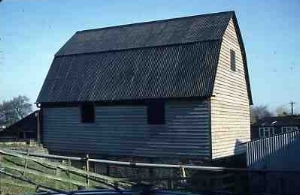 Several mills are known from the eighteenth century onwards, such as Beesley's Mill, a nineteenth to twentieth century watermill; an eighteenth century watermill at Ford End Farm, re-using a medieval moat as a mill leat; and Pitstone Mill, eighteenth to twentieth century records of a watermill with waterwheel, millhouse, bakehouse and outbuildings. Other industrial remains include nineteenth century coprolite quarries at Grove Farm, Gales Farm and on the Cheddington Road, a chalk-pit and limekiln at Ivinghoe Aston and brickworks near Cheddington church. The Grand Union canal also passes through this parish and has several nineteenth century bridges, eighteenth to nineteenth century locks, lock keeper's cottages and pumping stations.
What to find out more? Read the detailed historic town report for Ivinghoe (below).
---