Buckingham
Two ring-ditches were seen on an aerial photograph of land near the River Ouse south-west of West End Farm. There are also suggestions of a ring-ditch under the Badger's Estate. These may be the ploughed out remains of Neolithic to Bronze Age round barrows. Over the other side of the town, Neolithic to Bronze Age flint artefacts were found near White House Farm. A Neolithic polished stone axehead was found in a path in front of a house in Gawcott village in the 19th century, but it is unclear where it was first found. Bronze Age and later metalwork was found in a metal-detecting survey on land near the Buckingham tip.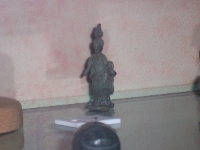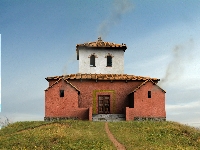 Some Roman remains on the boundary of Buckingham and Thornborough include roads, settlement evidence, cremation burials and a temple south of the A421 at Bourton Grounds. Two barrows mark the Thornborough side of the boundary. It seems as though this was a busy crossroads area with a ford and, later, a bridge over the River Twin. The temple was excavated in the 1960s and dated to the 3rd century AD. Many coins were found on the site – offerings given to the gods. Many years later a metal-detectorist found an Isis figurine near the temple site. Isis is an Egyptian goddess but her cult spread over the Roman empire. Lots of pottery and tile found here also suggests the site of a settlement, which was also identified in excavation and geophysical survey. A possible Roman building was identified at Castle Fields in Buckingham in the 19th century. There are several Roman roads thought to pass through Buckingham. Pottery, kiln furniture and areas of burning found at Buckingham Industrial Estate suggest the site of some early Roman pottery kilns here.
In AD 914 King Edward the Elder established two burhs at Buckingham, one on either side of the Ouse, to defend against the Danes. A Viking style spearhead was found at the foot of Castle Hill in 1896. The site of these two burhs is not exactly known, but one may have been south of Castle Hill and the other somewhere at Bourton, as suggested by place-name evidence. After AD 942 the military significance was lost but Buckingham became a royal borough and produced coins from c. AD 975-1060. Excavations on Hunter Street were thought to be on the site of the Saxon burh but only later medieval occupation was found. Possible Saxon or medieval burials have been found in pipelines and roadworks at the bottom of Church Hill, on Well Street and outside Churchview Cottage.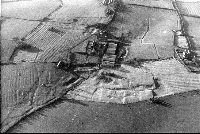 Buckingham, Bourton, Gawcott and Lenborough were all recorded in Domesday and were on the edge of Bernwood Forest from the late Saxon period. Bernwood had been a hunting forest from the time of Edward the Confessor. It grew to its largest extent under Henry II. The whole area was not covered by woods; in the medieval period a forest was a place where deer roamed for hunting and so included open land, villages and fields. All those who lived in the forest were not allowed to hunt or even gather wood without a special licence from the king. Bernwood Forest was finally disafforested in the reign of James I in 1635, although it had been shrinking in size since the time of King John (1199-1216).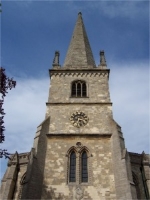 Soon after the Norman Conquest in 1066, the Giffards built a castle in Buckingham. The earliest mention of it is 1070. The castle in Buckingham decayed and was made into a farmhouse after the Duke of Buckingham was executed in 1521. It is mentioned as in ruins in 1540. From 1670 the empty space was flattened for use as a bowling green. Voting would also happen in tents set up temporarily. The bowling green was used by gentlemen, who also used the Assembly Rooms on Castle Street. The motte was flattened in the 18th century for the new church, which was built between 1777 and 1781 to replace the old church at the bottom of Castle Hill.
There are historical records of a chapel in Gawcott dedicated to St Catherine or St Andrew. The site is recorded in a field name of Chapel Close. There are earthworks of a possible medieval hamlet with surrounding ridge-and-furrow around Manor Farm in Lenborough, but the remains may be from quarrying. Manor Farm itself is 17th century in date. There were also medieval village earthworks around Home Farm at Bourton but they are now damaged by roadworks. Medieval fields are also known around Manor Farm in Bourton. Twisted Chimney, a house at the bottom of Castle Hill near the old churchyard, was known as the Manor House and was probably the site of the medieval Prebend End Manor. The house dates to the 16th century. Excavations behind buildings, for instance the White Hart and Grand Junction Hotels, next to the River Ouse on Market Square have revealed a number of medieval occupation layers.
One legacy of the medieval period was that, by royal decree, wool could only sold to other countries through a small number of towns. These towns became known as staple towns. Buckingham was a staple town. However, in 1535 Henry VIII decided that all wool trade should go through Calais, which belonged to England at that time.
When the wool trade ended there was still other forms of industry going on in Buckingham. For instance, there were bell-foundries. The Appowell family were first mentioned in 1556 and accounts in Wing church in 1557 recorded £3 6s 8d 'payde to John appowell for the bell'. In 1590 the same church recorded £10 0s 7d paid to 'Bartholomewe Atton of Buckyngham for the casting of the second bell'. He was working with Richard Newcombe at the time. The Attons stopped founding in 1633. Other bells would have been made locally as it was difficult to transport heavy church bells any distance.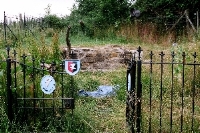 There was also a shrine to St Rumbold in the old parish church. Traditionally, St Rumbold was a child of the royal family of the Midland kingdom of Mercia. He is said to have been born at Sutton (now known as King's Sutton) near Banbury. Legend has it that he died when he was only 3 days old, but that in that time he said several times "I am a Christian", expressed his faith in the Holy Trinity, asked for Baptism and Holy Communion, preached on the Holy Trinity and the need for a virtuous life, quoted Scripture and recited the Athanasian Creed. Buried at King's Sutton, he was later moved here to Buckingham. There is now a well dedicated to St Rumbold to the south-west of the town. There was possibly a hermitage between the well and the town as the field is recorded on historic maps as the Little Hermitage and there is an early 16th century will mentioning an anchoress (female hermit) in Buckingham. The old church probably started out life as a minster in the Saxon period and there are indications that the tower may have been Saxon. The old church spire oin top of the tower fell down in 1698/9 and again in 1776. After the second collapse the church was demolished and a new one built on Castle Hill.
Castle House was known as Fowler's and then Lambard's House through the Tudor and Stuart periods, after the families that lived there. Edward Fowler was entertaining Katherine of Aragon there, Henry VIII's first wife, when she heard the news of the victory over the Scots at Flodden Field in 1514. Edward Fowler's father had been an important official in the government, so the family had previous royal connections.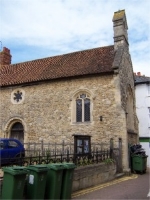 The Old Chantry Chapel had been St John's hospital from the late 12th century, but it became a chantry in 1219-68 and was later made into a free school by Isabel Denton in 1540 and continued by Edward VI. When part of the building was damaged by fire in 1696 the north-western end was rebuilt for the school master and is known as St John's house. It was a school until 1907 when it was bought by public subscription and then presented to the National Trust in 1912. Medieval burials have been found around the chapel.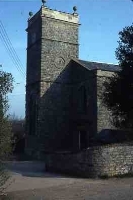 Rose Cottage in Bourton is a 17th century building. It was originally part of Chapel Farm and is thought to incorporate some fabric from a chapel. Gawcott parish church was a chapel built in 1806 but it was rebuilt as Holy Trinity Church in 1828. The Old Gaol was built in 1748 to look like a castle but it was a gaol used when Buckingham held the county assizes. Next to the post office on Market Square was an almshouse. This was probably the site of St Laurence's Leper Hospital during the medieval period, then in 1597/8 Christ's Hospital was founded to house 36 unmarried soldiers. It was rebuilt in 1897. Another almshouse was built on Church Street around 1701, again perhaps replacing a medieval hospital founded in 1431. It is now part of Buckingham University. 1-2 Market Hill is a 15th century building with 17th and 18th century alterations and contained an early 16th century wall painting inside.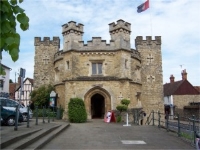 There were many mills in the parish. Prebend End Mill is recorded from Domesday and was recorded as a fulling mill on 18th century maps and probably stopped working in 1911. It is now used by Buckingham University. Bourton had its own watermill, marked on 18th and 19th century maps. It ceased working around 1920 and by 1983 was a farm store. It was probably on the site of one of the medieval watermills in Bourton. 17th and 18th century maps mark the site of a windmill south-east of Gawcott Farm, which is also recorded in historic documents back to the 14th century.
One of the later additions to the parish was the Buckingham branch of the Grand Union canal. It was opened in 1801, was disused by 1910 and officially abandoned in 1961. There were three wharves for the canal, where the Grand Junction pub is now. The later centuries also brought industry, and 19th century brickworks and lime kilns were identified at Prebend End from trade directories and maps, and a marl pit was found in excavation at 28 Mitre Street. A potter is recorded in the 18th century in Gawcott, suggesting there was a pottery kiln here. An 18th to 19th century tannery was found on Hunter Street in excavation. The Maltings in Lenborough was a 19th century malthouse – making beer for the inns and hotels in Buckingham. Buckingham Cottage Hospital was also opened in the Victorian period, in 1886, and is still in use for its original parish. There was a hospital at the workhouse on Stratford Road as well, which was built in 1835, but that was demolished in the 1970s.
The railway was another later addition to the parish. The Verney Junction to Banbury railway passed through Buckingham. It opened in 1850 and closed in 1964. Some bridges and cuttings still survive along the line – such as the bridge over the River Lovat towards Padbury, that over Ox Lane or the one at Laurel's Farm, Lenborough and several others. The old station was south of the river at Mount Pleasant.
A radio transmitter used by the first incarnation of MI6 was set up in the Second World War on Signal Hill. There may have been a plane crash nearby. During the Cold War several Royal Observation Corps posts were set up in Buckinghamshire. One of these was at Buckingham industrial estate off the A413, opened in 1968 and closed in 1991.
Want to find out more? Read the detailed historic town report for Buckingham (below).
---