Great and Little Kimble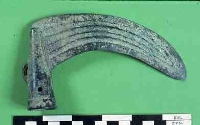 A few prehistoric artefacts have been found in Great and Little Kimble parish. Some are only vaguely located, such as the Neolithic hammerstone and Iron Age bead found in Great Kimble. Other are more securely located, such as the Mesolithic to Bronze Age flint blade found in the garden of Wingletang and the Bronze Age sickle found in the woods east of Chequers Knap. A major prehistoric monument also exists at Pulpit Hill, which is in this parish. It is an Iron Age hillfort and it is protected by Scheduled Ancient Monument status. There have been no controlled excavations of the hillfort but pottery and flint flakes have been found there. It has recently been convincingly argued that the Icknield Way, which was thought to date back to the Neolithic, is actually a medieval invention. Other possible prehistoric monuments in this parish include a mound on Dial Hill that could be a Bronze Age barrow but may as easily be a Roman or medieval mound; and a possible Iron Age hillfort on Ragpit Hill that has recently been shown to actually be two Late Bronze Age cross-dykes, long linear systems that seem to divide the landscape up. There are also two possible ring-ditches known from aerial photographs north of Meadacre Farm.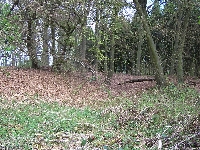 Lots of Roman pottery has been found around the parish: south-west of Kimblewick; south-west of High Holburn Farm; at Church Farm House; at Hobbs Hill; dredged out of Marsh Moat and north-east of Chequers Knap. Roman coins have also been quite widely found, for instance in the gardens of houses called Memories, Grove Cottage and Ladymere. Finds around All Saint's church and Church Farm, Little Kimble, include a mosaic floor, a wall and Roman pottery and tiles, suggestive of a Roman building.
There is a little evidence of Saxon activity in the parish, from records of a cemetery at Gallows Cross in a tenth century charter to Saxon pottery being dredged out of Marsh Moat and found in fieldwalking nearby. Some late Saxon metalwork has also been found near All Saints church, Little Kimble and at Longdown.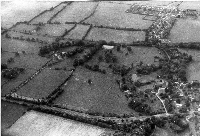 The medieval period is well represented in the parish. The moat at Marsh, which has been mentioned above, is also associated with three fishponds and some remains of medieval settlement, which may date back to the Saxon period from the finds of pottery, but was certainly there in the medieval period. There is also a medieval moat at Poplar Farm in Kimblewick and two, also associated with a fishpond, at Grange Farm, which is known to have been a grange of Missenden Abbey from records dating from the twelfth to the sixteenth centuries. There are many other medieval earthworks. Some of the most important are those near All Saints church, Little Kimble. As well as a Roman building there is a medieval motte with two baileys as well as a moat and village earthworks. This castle would have been the pair of Cymbeline's Mount, which is over in Ellesborough. Another deserted settlement with a moat and fishpond is known between Manor Farm and St Nicholas' church in Great Kimble. The moat may represent the site of the manor house. Fishponds are nearby as the lord of the manor would prefer to eat fresh fish rather than the salted variety everyone else had to eat. That there are several moats in this parish reflects the fact that there were several manors such as Whitingham's Manor, Upton's Manor, Grove Manor and Marshal's Manor. The medieval manor house near the church at Little Kimble was demolished in the nineteenth century. The grange would have been outside the manor system, as it belonged to an abbey, and so that's why there are moats there as well.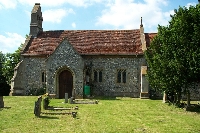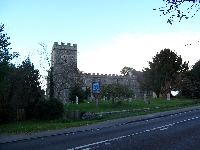 There are other earthworks such as two hollow-ways near Lower Cadsden, which may be medieval and house platforms and a fishpond near Grove Farm, which may be the remains of another medieval village and manor house. A possible medieval settlement or field boundary was also recorded at Little Marsh Farm. There are also records of a thirteenth century nunnery near All Saint's church, Little Kimble and a chapel at Chapel Leys in Kimblewick. The two main medieval buildings in the parish are, of course, the churches at Great and Little Kimble. St Nicholas' church, Great Kimble is thirteenth century with a fourteenth century chancel, but it also has a twelfth century font inside which may suggest the presence of an earlier church, although it could have come from elsewhere. All Saints in Little Kimble, however, is older. It dates to the twelfth century but was altered in the fourteenth, which is when the walls were painted with scenes of saints, St George and the Dragon and the Doom which survive, though fragmentary, to be seen today. There are also records that in the sixteenth century it had a chantry chapel. Two secular buildings in the parish also have some medieval work. Both Grange Farm and Manor Farm in Great Kimble include some fifteenth century fabric though both have been altered.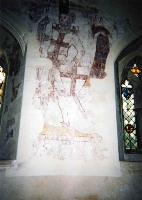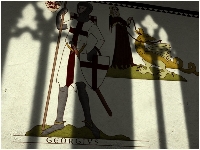 The other listed buildings in the parish date to the eighteenth and nineteenth centuries, such as The Prince of Wales pub and Manor Farm in Kimblewick, which was derelict for a while. Some of the registered gardens also date to the nineteenth century, such as that at Manor Farm in Great Kimble and part of the Chequers estate extends into this parish. In the later centuries there is much more industrial activity. Many saw-pits and chalk quarries have been identified in Pulpit Woods, but it is unclear what their exact date is. Marsh Mill is an eighteenth to nineteenth century watermill but may be on the site of a medieval predecessor. There are also records of a brickworks in Great Kimble in the nineteenth century.
---