Princes Risborough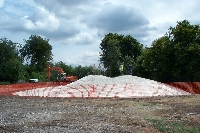 Quite a few prehistoric artefacts have been found in Princes Risborough, suggesting a certain amount of activity around the Early Neolithic oval barrow on Whiteleaf Hill. This is a very well known site in Britain and was first excavated in the 1930s, but this was curtailed by the Second World War. The work that had been done was finally published in 1954 but the site was still a spoilheap, so a new investigation was undertaken by the Countryside Service of Buckinghamshire County Council, Oxford Archaeology and the Princes Risborough Countryside Group with funding from the Heritage Lottery Fund. This work refined some of the ideas from the earlier excavation and reinstated the barrow. The oval barrow covered a wooden burial chamber that one person had been laid inside. Later, some of the bones were removed and probably used in ceremonies. Recent radiocarbon dates have confirmed that the burial chamber was probably set up very early in the Neolithic, around 3900 BC. The excavations also revealed that two mounds that were thought to be Bronze Age burial mounds were actually a natural tump and probably a medieval windmill mound. Investigations further up the footpath towards the car park revealed a Late Bronze Age cross-dyke and some First World War practice trenches. The project won a British Archaeological Award in 2006.
The Icknield Way is supposed to be a Neolithic track that was later reused as a Roman road, but it seems that there is little evidence for this. Other artefacts found in the parish include Late Neolithic to Early Bronze Age flint core, scraper, blades and flakes found next to a stream near Summerlys; four Neolithic to Bronze Age hammerstones, a core, a blade, a scraper and six flake were found at Manor Farm; two Neolithic to Bronze Age flint axes and a flake were found in the garden of Overways on the Upper Icknield Way and many other prehistoric artefacts were found around the parish. There are also a couple of burials that have been found: one dating to the Late Bronze Age or Early Iron Age was found under a patio in a garden on Clifford Road and another undated one but possibly prehistoric in the garden of Crossfield Road. Iron Age human remains as well as settlement evidence in the form of ditches and animal bone and pottery were found in excavations at Princes Risborough swimming pool. An Early to Middle Iron Age settlement was recently excavated at Park Mill Farm.
A few Roman artefacts have been found in gardens, such as pottery found at a house on Chiltern Close or a coin found in a garden on Poppy Road. A few pieces have also been found through metal-detecting, such as a brooch found in Giles Wood. Roman brick and tile was found behind houses on Aylesbury Road where there is also a cropmark of an enclosure known from aerial photographs. Roman flue tile from a building was also found during works on the Place Farm estate. Excavations at Pyrtle Spring also recovered some Roman pottery. Some Roman artefacts were found in the excavations on Whiteleaf Hill, including a copper leaf that may have been used in religious ceremonies. Excavations for a new access road to Princes Risborough school revealed three infant burials, which suggests there may be a Roman settlement near here as infant burials were sometimes made at settlements.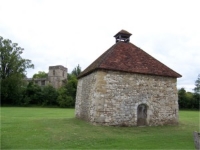 There is a little evidence of Saxon Risborough as well. A Saxon or medieval cemetery was found in a chalk pit at White Cliff Hill in the nineteenth century and there are also records of a tenth century cemetery on Gallows Hill. There was also a Benedictine cell near the Dove House in the tenth century and the moat known there in the nineteenth century may have dated back to this period. Also recorded in the tenth century is the Black Hedge, which is the part of the parish boundary. Late Saxon boundary ditches, pottery and animal bone were also found in excavation in the grounds of St Dunstan's church in Monks Risborough.
There are historical records about Princes Risborough that mention Abbot's Manor as a separate manor to the main one; Culverton Mill is also recorded as far back as the fourteenth century, as is Monks Risborough Mill but Park Mill is recorded in Domesday; a deer park west of the town is mentioned from the thirteenth century but there is nothing heard about it after the Restoration. Perhaps the most important historical reference, however, is to the Black Prince's palace, which can probably be sited at The Mount where there is an enclosure and medieval floor tile, pottery and metalwork have been found. Because the lord of the manor was the Black Prince (Prince Edward, the eldest son of Edward III) the parish became Princes Risborough.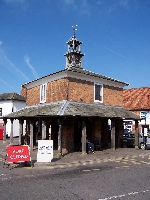 Medieval material has also been found in excavation. For instance, medieval pottery and a pit were found at Town Farm barns in Market Square and a fourteenth to fifteenth century hall-house and moat were found in excavation at the Old Manor, Askett, along with floor tiles and pottery of a similar date. A house had replaced the first in about 1600 and was later split into three cottages but this was demolished in 1969. 116 fragments of medieval pottery were found just digging the garden at Monks Risborough rectory. Other medieval artefacts have been found around the parish, such as the flesh hook (for hooking meat out of a pot) and arrowheads found by metal-detectorists in Giles Wood. There is also a medieval moat north of St Mary's church, which may mean there was a manor house here.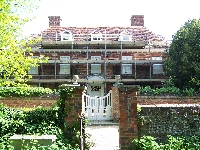 The two churches are the oldest standing buildings in the parish. St Dunstan's in Monks Risborough dates mainly to the thirteenth to fifteenth centuries but there is a twelfth century font inside, which may suggest that there was an earlier structure there. St Mary's in Princes Risborough is mainly twelfth century and has many thirteenth century additions. Monks Staithe, just north of St Mary's, is the oldest secular building in the parish, and dates back to the fifteenth century in parts. The old library on Church Street also dates back to the fifteenth century, as does 51 High Street. The dovecote at St Dunstan's is a little younger, dating to the sixteenth century.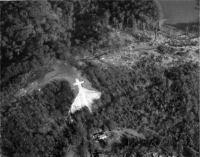 Many of the other listed buildings in the parish date to the seventeenth century such as Paxton's Cottage, Princes Risborough Manor House, Blossom Cottage and Askett Farm. The Particular Baptist Chapel in Bell Street dates to the eighteenth century, with some nineteenth century rebuilding. The Market Hall, though it is timber-framed, actually dates to the nineteenth century. Enterprise was strong in the nineteenth century, evidenced by the Lion Brewery and records of a pottery kiln somewhere in the parish. It may have been this enterprise that came up with the idea for a chalk-cut figure. Whiteleaf Cross dominates the parish and there has been much speculation about its date. The earliest reference to it, however, is only 1742.
Want to find out more? Read the detailed historic town report for Princes Risborough (below).
---