Taplow
Several Lower to Middle Palaeolithic artefacts have been found in Taplow. A handaxe and flake were found in Higg's and Hill's gravel pit; a scraper was found in a gravel pit at Wittage; several Lower to Middle Palaeolithic handaxes, flakes and animal bones were found in Taplow Station Pit in the nineteenth and twentieth century; a blade was found at Wood's Nursery; and a couple of handaxes have been found in the Thames, one near Maidenhead Bridge. Many more handaxes have been found round the parish though their exact provenance is unknown.
The area was very busy in later prehistory, probably due to the proximity of the Thames. Mesolithic artefacts have been found in the river, for instance at Amerden, and also at Cliveden. Mesolithic to Neolithic items were found at Roque's Piece. A great deal of prehistoric activity has also been excavated next door in Dorney. Aerial photographs have revealed a number of sites, such as two Neolithic to Bronze Age ring-ditches south-west of Hitchambury and fields, tracks, a long barrow, ring-ditch and pit alignments north of Dorney Reach, where a causewayed enclosure is also known. There is also an oval ring-ditch known from aerial photographs east of Barge Farm. Some of the excavation for the Maidenhead to Windsor and Eton Flood Alleviation Scheme took place in Taplow. A palaeochannel filled with prehistoric flints in a midden dump was found at Marsh Lane East and a Bronze Age midden was found in a tree-hollow at Amerden Lane East and a similar site at Amerden Lane West. Other excavations, such as Taplow Mill site, uncovered Neolithic pits and burials associated with flint artefacts, burnt flint and Peterborough Ware. Many more Neolithic to Bronze Age artefacts have been found by chance in the parish, and many have come from the river.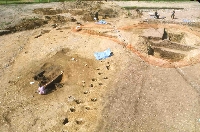 The promontory on which Taplow Court now stands was first defended in the Late Bronze Age. A ditch was dug enclosing a small area and faced with a palisade. Post-holes of Late Bronze Age buildings were found in the interior of the hillfort. This hillfort was then enlarged in the Early Iron Age and a timber-laced rampart and ditch was constructed. The hillfort seems to have encompassed a much wider area, including Bapsey Field. At some point the hillfort was attacked or destroyed by setting fire to the ramparts and many areas of burning were excavated by Oxford Archaeology before the construction of the new Chanting Hall. When Station Pit was being worked in the nineteenth and early twentieth century, a great deal of Early Iron Age material was found, including pottery and quern fragments suggesting there was a settlement here at the same time as the hillfort was occupied. Later on in the Iron Age Glen Island in the Thames seems to have been occupied. Middle to Late Iron Age pottery and animal bones were found in a pit there some years ago but it has not been systematically excavated. Iron Age artefacts have also been found in the river but are not as common as in earlier periods.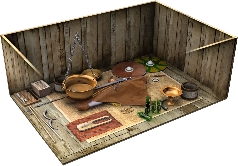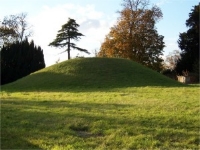 Roman pottery was also found in Station Pit and elsewhere around the parish. A possible Roman settlement is suggested by finds of pottery from Sheepcote House. A Roman floor, wall, ditch and associated pottery, animal bone and metalwork were found in Ten Acre Field. The Saxon period is much busier in this parish. The main site that was, before Sutton Hoo was discovered, the richest Saxon burial in the country was Taplow barrow in the old churchyard behind Taplow Court. It was excavated in 1883. A 7th century burial of a man was found, surrounded by gold jewellery, a sword, spears, shields, drinking horns, gaming pieces, buckets, glass claw beakers, fragments of a wooden lyre and a Coptic bowl from the Near East or Egypt. Domestic artefacts have also been found near the barrow, such as spindle-whorls and a Saxon building, burial and rubbish heap were found in the excavations of the Iron Age hillfort on the other side of Taplow Court country house. It is likely that a church was built close by quite soon after, Christianising this pagan site. It is said that St Birinius baptised people in Bapsey Pond from the 8th century onwards. Lots of Saxon metalwork was also thrown into the river, or possibly lost during battles. A 10th century socketed axe was found at Boulters Lock, for instance. By the end of the Saxon period some of the settlement was fixed; Taplow and Hitcham are both recorded in Domesday, for instance.
Taplow Manor was based at Taplow Court. There was a medieval manor house here but it burned down in 1616 and was rebuilt in 1635. This was subsequently enlarged in the 18th and 19th centuries to give us the Taplow Court we know today. Hitcham and Amerden were separate manors in the medieval period and the latter may have been based at Amerden Bank moat. Along with records of the manors, there are records of a windmill in the parish in the 13th century, watermills and a 13th century predecessor of Maidenhead Bridge that was replaced in the 19th century. The medieval St Nicolas' church was next to Taplow barrow and parchmarks can be seen in the grass during hot summers where the buried foundations remains under the grass. There are still gravestones and tombs around the barrow from the old churchyard as well. There may have been a church here in the 8th century but the medieval example was built in the 12th century. It also included some 14th century brasses, one of which, dating to 1340, is the oldest brass to a lay person in the country, in this case Nicholas of Amerden, a fishmonger. This and the 12th century font were moved to the new church when the old one was demolished in 1852. The church built on the current site in the 19th century was mostly replaced in the early 20th century.
There are also records of slightly later monuments, such as Amerden Priory, dating to the 16th and 17th century. There are also records of Calbroke Chapel in the centuries after the medieval period. Amerden Ray Mill was a watermill recorded from the 16th to the 19th centuries. There are also records of a limekiln in the 16th century supplying mortar for the building of Hampton Court Palace. They were given bricks for kilns in return.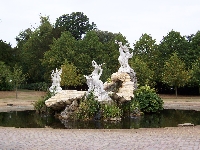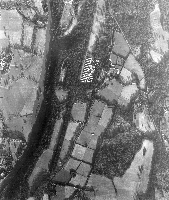 The later history of Taplow is one of country houses and parks. Taplow Court, rebuilt in the 19th century, is one of those. It was used as a school in the Second World War and then became a telecommunications centre in the after-war years and now houses a Buddhist organisation. Cliveden is another major country house. It was built between the 17th and the 19th centuries, and many of the garden buildings date to the 18th century. The Italian Garden is a twentieth century memorial to the First World War. The tennis courts at Cliveden were used as a hospital during the First World War by the Canadian Red Cross. At the outbreak of the Second World War they were offered again as a hospital, but it soon became clear that bigger facilities were needed.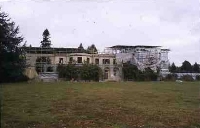 The Canadian Red Cross Memorial Hospital was decommissioned in 1985 and demolished in 2006. The Dropmore estate is also partly in Taplow. Dropmore is an eighteenth century house with matching formal gardens including an aviary, pergolas, pavilions, alcoves and grottoes. Some of the smaller houses also have landscaped gardens, such as Taplow Lodge, Amerden Grove and Amerden House, all of whose gardens date to the 19th century.
The 18th century saw several brickworks in the parish, such as at Hitcham and east of Wooburn Common. One of the later additions to this parish was the Great Western Railway. The Great Western Railway was designed by Brunel and built in stages between 1834 and 1841 and Maidenhead Bridge, built in 1838, is part of that scheme.
---