Stone with Bishopstone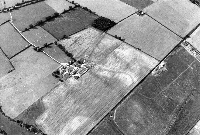 A number of prehistoric artefacts have been collected in fieldwalking events in Stone. Mesolithic blades, cores and flakes, Neolithic to Bronze Age flakes, scrapers and cores and Late Iron Age pottery, a loomweight and a bead were found north of the church. Late Bronze Age, Iron Age and Roman ditches and pits with associated pottery were found in a watching brief during pipeline trenching at St John's Hospital. Neolithic to Bronze Age flint flakes and other late prehistoric flakes and scrapers were found fieldwalking in fields north of Bishopstone. Upper Palaeolithic flint flakes and cores and a Neolithic arrowhead were found north of Manor Farm. Most of these fieldwalking projects formed part of the wider Aylesbury Past Project to characterise the settlement around Aylesbury.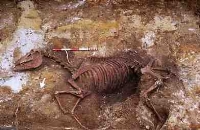 A ring-ditch and a track have been identified on an aerial photograph south-east of Chilborough Hill Farm are undated but the former may date to the Neolithic or Bronze Age. Late Bronze Age gullies, ditches, pits, post-holes, cremations pottery and animal bone and Iron Age ditches, gullies and pits were found in excavation at the former Nurses Home. A Roman ditch containing pottery was also found in excavation. A mound on Burn Hill was excavated in the nineteenth century and seems to be natural but may have been reused as a barrow, late prehistoric flint flakes were found in the excavations.
Roman artefacts have also been found in the fieldwalking project. Pottery and tile were found south-west of Walton Court Estate. Other Roman artefacts have been found by chance, such as the fragment of quern in the Asylum Burying Ground and Roman pottery, brick and metalwork next to Alwyn Lawn. Nineteenth century excavations at St John's Hospital uncovered a Roman well and cremation cemetery and a possible Roman kiln was reported opposite the Vicarage in 1872. A Roman ditch filled with pottery was found when digging a pit to bury garden waste on Alwyn Lawn. Roman ditches, pottery and animal bone were found during housing development at the former County Arms.
There is quite a lot of evidence for Saxon activity in this parish, though it is mainly funerary. Two possibly Saxon burials were found at Burn Hill when digging out badgers in the nineteenth century; a Saxon burial was found west of the Vicarage; a small Roman or Saxon cemetery of seven skeletons was found north-east of the hospital in the nineteenth century; there may be a burial in the Vicarage Orchard as indicated by the find of Saxon metalwork in the nineteenth century; and Saxon cinerary urns and metalwork were also found in Windmill sandpit.
There are more documentary records for medieval structures than in other periods, such as Haydon Mill, which is recorded in Domesday; the fourteenth to nineteenth century records of a windmill on Windmill Hill; thirteenth to nineteenth century records of a windmill on the Oxford Road; and the sixteenth century records of a chapel in Bishopstone with a cemetery mentioned in the thirteenth century. There are also records of a windmill at Standell's Farm from the medieval period. A nineteenth century map records the site of a possibly medieval bridge south-west of what is now the Walton Court Estate. Other evidence includes artefacts found in fieldwalking and earthworks recorded in field survey and on aerial photographs, such as the medieval house platforms east of Hartwell End Farm and south-east of Bishopstone Farm and medieval village earthworks and a field system around Sedrup Farm. Some earthworks south of Vicarage Farm may be those of a medieval village or quarrying but also could date to the Civil War period.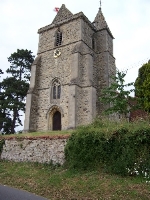 The oldest surviving building in the parish is St John the Baptist Church which has a Norman nave and north door (and a Norman font from a church in Berkshire), thirteenth century transepts, fourteenth century tower, nineteenth century chancel and a fifteenth century churchyard cross. Human remains were found in a gas pipeline trench on Church Way and may date to the medieval period. The oldest residential building is The Springs which is a timber-framed hall-house with later alterations. Some of the other listed buildings date back to the sixteenth and seventeenth centuries but most are eighteenth century. Some are made of witchert, a local material is used most at Haddenham, such as Well Cottage and Dolphin Cottage. Other houses and walls have incorporated the local fossil, ammonite, into their fabric, such as the boundary wall around Hartwell House and the Bugle Horn Inn.
St John's Hospital would have dominated the parish in the nineteenth century. It was the a psychiatric hospital, known as the county lunatic asylum, and is now demolished. Excavation on the site has uncovered nineteenth century pits and other allotment features as well as bottles and so on. A possible inhumation cemetery was unearthed next to the road near the former hospital and there is a tradition that this was the site of the gallows, though it is possible that some inmates were buried there. St John's had its own chapel, which still stands but currently has planning permission to be turned into offices. There are also records of industrial activity in the parish at this time, such as a windmill at Round Hill, the White sand-pit that is marked on nineteenth century maps and the coprolite washing industry at Little Marsh Farm and south-west of Moreton Farm with Tram Field being the site of a tram for taking away the washed coprolites. The Wesleyan chapel and burial ground are also nineteenth century developments.
The most recent record in the Historic Environment Record for Stone and Bishopstone parish is the Second World War prisoner-of-war camp at Hartwell dog track.
---