Long Crendon
Some prehistoric flint artefacts have been found in Long Crendon, for instance some Mesolithic flakes at Southfield Garden, and a Mesolithic to Bronze Age flint scraper found at Field Farm. There are two possible Neolithic to Bronze Age ring-ditches north-west of Notley Abbey. These were recorded on aerial photographs. Ring-ditches are often all that remains of round barrows that would have covered burials. The mound itself was created with the soil from the circular ditch. When the mound is ploughed flat only the ditch, filled with slightly darker soil, remains visible. However, similar marks are left behind by medieval and post-medieval windmill mounds and a windmill is marked on a historic map in this area. Another ring-ditch near Glebe Farm may be prehistoric or could be Roman as there is a record of Roman pottery found near here. Other prehistoric features such as pits and ditches were found south of the village at Harroell End but an exact date is also unknown as no dateable artefacts were found.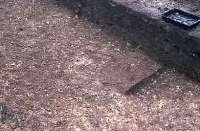 Middle and Late Iron Age settlement features such as pits and ditches were found in excavation for a water pipeline north-east of the church. There may have been a later Roman element to this settlement as well. The base of a Roman beaker was found in dredgings from the River Thame. Part of a human skull and other human bones were also found in the Thame, perhaps suggesting a cemetery near here. The corner of an enclosure was seen near here on an aerial photograph and may be related to this settlement activity. Cropmarks of a possible Iron Age hillfort were also seen north of the school.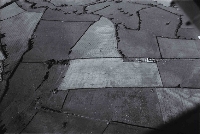 Late Iron Age to Roman pits, ditches and possible Late Iron Age cremation pyre debris as well as three Roman cremation burials were discovered in excavations for a gas pipeline between Long Crendon and Shabbington near Peppershill Farm. Roadworks in the 19th century near Cop Hill uncovered a number of inhumation and cremation burials. The date of the burials was reported as either Roman or Saxon. A stone sarcophagus was reported, which would suggest a Roman burial, but the location of this is now unknown. Some rings and pottery said to have come from this site survive in the county museum and are thought to be Roman. This suggests two cemeteries on either side of the later village. A Roman road from Dorchester-on-Thames passes through Long Crendon on its way to Fleet Marston, Akeman Street (the A41) and beyond.
Long Crendon is recorded in Domesday and was part of Bernwood Forest from before that date. Bernwood had been a hunting forest from the time of Edward the Confessor. It grew to its largest extent under Henry II. The whole area was not covered by woods; in the medieval period a forest was a place where deer roamed for hunting and so included open land, villages and fields. All those who lived in the forest were not allowed to hunt or even gather wood without a special licence from the king. Bernwood Forest was finally disafforested in the reign of James I in 1635, although it had been shrinking in size since the time of King John (1199-1216).
There were four manors in Long Crendon in the medieval period; Long Crendon Manor, Lovedens, Nutley and Spurlings Manor. The original Crendon manor house held by St George's Chapel, Windsor was on the High Street and was replaced by the current version in the 17th century. Spurlings Manor house was on Frogmore Lane and the current building is a 14th to 16th century cruck-built house. Lovedens Manor, owned by All Souls College and then the Dormer family, seems to have been based at College Farm, although it may have been based elsewhere, perhaps at Northend Farm. Earthworks to the south-west of the village once thought to be those of another manor house are actually the earthworks of the medieval village. Nutley manor was governed by Notley Abbey.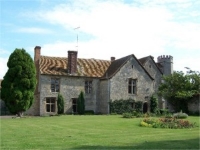 Notley Abbey was founded before 1162 by Walter Giffard. The last abbot, Richard Ridge, signed the Act of Supremacy that made Henry VIII the head of the Church in England in 1535 and the abbey was dissolved in 1538. Only the abbot's house, built in the 13th century, and part of the cloister survive and were turned into a private house. Oxford University Archaeology Society did some excavations there in 1937 and found medieval tiles and stained window glass, human remains, and the foundations of the abbey church. A medieval cruck-built barn at Notley Farm was probably the abbey's tithe barn. The monks supported their diet with fresh fish from the fishponds to the north-east of the abbey buildings. There are also records that the abbey was founded with land that included part of a deer park.
There are earthworks south-east of the church that may be the remains of a motte. There is a local tradition that the castle of the Giffard family may have been on Cop Hill. Local tradition also suggests that the medieval market was held on Church Green and a historic map marks a village cross here. Medieval cultivation terraces and a farmstead of a similar or later date can be seen along the road from Crendon to Chilton.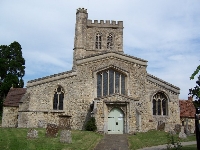 St Mary's church is another old standing building in the parish, much of it dating to the 13th century. Near the church is the courthouse. This was built in the 15th century as a church house and was used for hearing manorial court cases from about 1500. In the 18th century the ground floor was converted to house paupers. The ground floor is still lived in but the upper floor is managed by the National Trust and regularly opened for the public.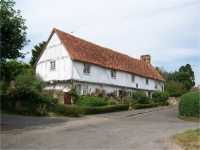 Many of the other listed buildings in the parish date back to the 15th and 16th centuries. Northend Farm was a 15th century cruck-built house but was demolished in 1965. Cordwainers, on the corner of the High Street, is also medieval but with later alterations, as is Lower House on Bicester Road.
There is a historical record of a Civil War skirmish in Long Crendon in 1645 and the site is thought to have been in a field along Chearsley Road where Civil War weapons and human remains were found in the early 20th century.
Notley Mill, closed in 1924, may have been on the site of the medieval watermill recorded in Domesday. There are records of a post-mill brought from Brill and re-erected north-west of the church about 1830. It survived for a century before collapsing in 1930. Smart's windmill is recorded north of the village and the mound was recorded in a field visit of 1977 but was later damaged by roadworks. Other industry includes brickworks recorded on historic maps and in trade directories south of the village but no remains could be identified on a field visit.
Want to find out more? Read the detailed historic town report for Lomg Crendon (below).
---