Beaconsfield
Beaconsfield parish is full of listed buildings, but there are hints of earlier activity. Prehistoric artefacts have been found on the ground surface of fields and in gardens. For instance, Palaeolithic handaxes have been found on Chiltern Hills Road and at Long Bottom, and Neolithic polished axes have been found at Hall Barn, Wilton Park and near Over's Farm. Other flint artefacts have been found in a few other places, and Early Iron Age pottery was found in the garden of 27 Stratton Road. The Mount in Wilton Park golf club may be a Bronze Age barrow, but it is more likely to be a prospect mound associated with the former country house. A geophysical survey and evaluation at Lillyfee Farm revealed Late Bronze Age to Early Iron Age field boundaries so a farmstead must exist somewhere nearby. Two Roman roads are thought to pass through the parish, but not many Roman artefacts have been found.
A little more is known about the medieval period. There were, for instance, several manors. These were Beaconsfield manor itself; Hall Barn manor; Lillyfee manor; Hide manor; Wilton manor; and Gregory's or Butler's Court manor. There was also a hamlet at Lillyfee Farm, though the present farmhouse is eighteenth century. There was a windmill attached to Beaconsfield manor and there is also an unlocated deer park mentioned in a thirteenth century document.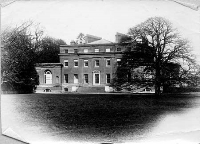 Wilton manor was based at Wilton Park. The eighteenth century country house probably replaced an earlier manor house. The Georgian house was demolished in 1962. During the Second World War Wilton Park was used as a prisoner-of-war camp for high-ranking German prisoners. After the war it became a de-nazification centre and then a centre for international diplomacy before being taken over by the Ministry of Defence as an educational centre.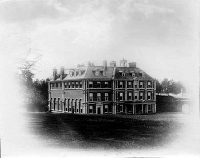 Hall Barn is a seventeenth century house, probably also on the site of an earlier manor house. The park was landscaped in the eighteenth century, as was fashionable. It now has a pavilion, garden temples, a boathouse, grotto and obelisk in the grounds. The Oak Lodge at Windsor End is covered with oak panelling that was originally intended to adorn the inside of a house, much of it sixteenth century. Hall Barn was used to store the Wallace Collection and the Rubens ceiling of Whitehall Banqueting House during the Second World War.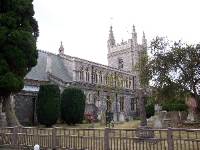 There is also a medieval moat and fishpond in Bower Wood, suggesting this was one of the manor sites. Another moat can be found at Seeley's Farm; the farmhouse is sixteenth century. There are also suggestions that there was a medieval monastic cell at the Old Rectory in Windsor End. The building itself is sixteenth century. The oldest standing building in Beaconsfield, however, is St Mary and All Saint's church, which dates to the fifteenth century. There are several large tombs in the churchyard. One is to the poet Edmund Waller and was put up in the seventeenth century, as was Anne Hyde's tomb. The Hollis, Anthony and Smith families have eighteenth century tombs and the Turrell family's tomb dates to the nineteenth century. G K Chesterton is also buried in the churchyard.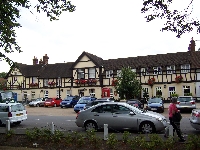 Most of the buildings in the centre of old Beaconsfield, along the A40, are listed. These range from the pubs such as the Saracen's Head, King's Head, the Swan, the George Hotel and the Crest Hotel, all date to the sixteenth and seventeenth centuries. 1 London End is of a similar date, though it has an eighteenth century front, and has seventeenth century wall paintings inside. Burke Lodge and Africa House were also a sixteenth to seventeenth century pub, but are now used for other purposes.
Some of the other listed buildings in Beaconsfield include Hall Barn estate office at Aylesbury End, which used to be a lock-up when it was first built in the eighteenth century; Davenies School was also built at the same time as was Hall Place at Wycombe End. This has been used as a school, rectory and a house. The garden walls date in places to the sixteenth century, suggesting there was a building there earlier, too. Capel House at Wycombe End dates to the sixteenth century and is now used as the church hall. Woodlands Farm was a nineteenth century model farm. Even the red telephone box at Windsor End is listed, as it is based on a classic 1935 design.
There are also quite a few registered parks and gardens in Beaconsfield, including Hall Barn's park mentioned above. Shepherd's Lane and Broad Lane cemeteries are on this list. Manawatu's twentieth century garden is there too, as is the twentieth century wood garden at Birchen Springs.
There is evidence of industry in Beaconsfield. There was a brickworks at Holtspur Farm in the nineteenth century. There was a windmill at London End in the nineteenth century. There are also documentary references to a windmill on Mill Lane in the eighteenth century.
Some of the more modern monuments in the parish include the wireless and radar station set up at Springfield during the Second World War and the Royal Observation Corps post at Broad Lane cemetery that was in operation between 1958 and 1991. Beaconsfield Film Studios was also set up in 1921.
Want to find out more? Read the detailed historic town report for Beaconsfield (below).
---