Soulbury
A few prehistoric finds have been recovered from Soulbury parish such as Neolithic to Roman artefacts during field-walking in advance of the construction of the Stoke Hammond bypass; Neolithic to Bronze Age flints and Neolithic and Roman pottery from field-walking events in the parish, where Roman pits, ditches and a possible kiln were also excavated; and prehistoric flint flakes found near Valley Farm. Quite a few undated enclosures may be prehistoric or Roman such as that at Winscott Farm and those at Hill Farm seen on aerial photographs. Pits were found in geophysical survey at Chelmscote Manor, but also cannot be dated. Iron Age to Roman ditches, pits and enclosures were recorded in geophysical survey and trial trenching in advance of the construction of the Linslade bypass. A ring-ditch was identified at Hill Farm but it appears to have been a modern circular gravel pit. Another early monument to pass through the parish (just) is Watling Street, the main Roman road from London to the north-west that the modern A5 follows.
A Saxon cemetery was found in quarrying near Rislip Farm. The Saxon boundary ditch to the parish was seen in geophysical survey near Dollar Farm and the boundary with Linslade seems to have been marked with a barrow as recorded in a tenth century document. There has been quite a lot of desertion in the medieval period, with house platforms and moats being found all over the parish. One possible house platform was found north of the church, earthworks to the south were trial trenched with no results and medieval pottery was found in the churchyard; settlement remains have been surveyed at Bragenham Farm; one house platform was recorded at Butler's Cottage; settlement earthworks have been recorded in a watching brief at Chelmscote Manor and a medieval moat and fishponds are located just south-west of Chelmscote House; a medieval to post-medieval house platform is known from aerial photographs at Grove Farm; house platforms and hollow-ways along with other earthworks were recorded in field survey at Soulbury; two medieval to post-medieval house platforms were found at Lower Hollingdon; and finally The Leases seems to be a shrunken medieval village by the earthworks around that. There are also extensive historical records of medieval structures, such as those recording a medieval to post-medieval watermill at Stapleford Farm; a possible deserted medieval village is recorded in historical documents at Liscombe House where there is a medieval to post-medieval windmill mound and one of the eighteenth century ornamental ponds may have medieval origins; and a medieval windmill and chapel are recorded at Bragenham, the latter was demolished in the eighteenth century after being used for 'profane uses'.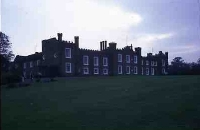 All Saints' church has a fourteenth century chancel and aisles with an earlier nave and a sixteenth century tower. Parts of a fourteenth century chapel survive in the sixteenth to seventeenth century Chelmscote Manor and a chapel of similar date was incorporated as a billiard room at Liscombe House. The oldest secular building is Hill Farm which has a fifteenth century cruck blade but also sixteenth to seventeenth century extensions. Most of the other listed buildings date to the seventeenth and eighteenth centuries, such as Manor Farm and The Old Cottage.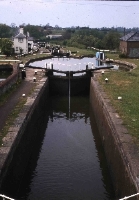 Some of the later remains are industrial, such as eighteenth to nineteenth century records of a brick and tile kiln at Bragenham Kiln Farm; records of a fulling mill in the parish in the post-medieval period; a windmill shown on a sixteenth century map; and a limekiln and pumping station on a nineteenth century map at Three Locks. The Grand Union Canal obviously passes through the parish with three locks at Three Locks. Stockgrove Park is listed. It was a country house that was built in the twentieth century and is now a school. It has twentieth century garden features, terraces, pergolas and a pond.
---