Aston Clinton
The Icknield Way passes through Aston Clinton and may be a Neolithic pathway. It was reused in the Roman period. Excavations around the Lower Icknield Way were conducted in advance of the building of the Aston Clinton bypass. Late Bronze Age to Early Iron Age pits and post-holes and Late Iron Age ditches, pits, post-holes, a ring-ditch, a rectilinear enclosure and a hollow-way were found. Roman features were also recorded, such as ditches, tracks, pits, a well, and a cremation. One Early Saxon pit with some pottery was also found. An early Saxon cemetery was found at Tring Hill where a new roundabout was constructed. Another Saxon cemetery was found in the nineteenth century at Lodge Farm.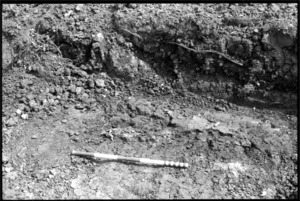 Grim's Ditch is another linear feature that runs through the parish. It has been interpreted as either Iron Age or Saxon, though current evidence tends towards the former. The A41 is based on a Roman road by the name of Akeman Street. There are also a few scattered remains that have been found in field-walking and stray finds, such as Roman, medieval and post-medieval pottery found at 2 New Road; Roman pottery found on the line of a sewer pipe and a Late Iron Age or Early Roman amphora and cremation found in a pit in the nineteenth century at Vatches Farm; Late Iron Age pottery, hearth and occupation layer found in pond-digging at Quaintways Farm; and Mesolithic flints, Roman and medieval pottery found field-walking near Dropshot Farm.
Medieval pottery was found at the edge of a stream in Aston Clinton Park and there are historical records of a medieval to post-medieval moat here. A medieval to post-medieval moat was also recorded behind the Rose and Crown and at Vatches Farm, where there are historic records for a medieval chapel, fishponds and some medieval artefacts have been collected from the ground surface. There are historic records that Vatches was a separate manor to Aston Clinton. A medieval moat has been recorded to the south of the church and there are historical records of a watermill in the medieval period near here. St Michael and All Angels church is the oldest building in the parish. It has a twelfth century nave, thirteenth century arcade and the tower was rebuilt in the nineteenth century.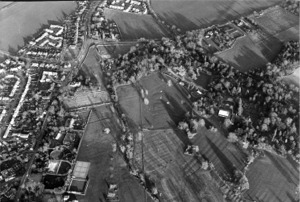 Other listed buildings in the parish seem to date between the seventeenth and eighteenth centuries, such as Sunnybrook Farm and Rookery Park House. The Grand Union Canal (both the Aylesbury and Wendover arms pass through Aston Clinton parish) was built in the eighteenth and nineteenth centuries. Aston Clinton Park once contained a nineteenth century country house that was demolished in the 1950s. There is also a nineteenth century ice-house, park and gardens. There is a nineteenth century skittle alley and kennels in the grounds of The Chalet and by tradition a shepherd is supposed to be buried nearby, possibly in the post-medieval period.
Aerial photographs have revealed the possible presence of World War I remains, an army camp near Hill Copse and practice trenches south of Stablebridge Road.
---