Quainton
A possible Roman road seems to run north-east from the A41 through Quainton. A pipeline laid near Lower Denham Farm revealed Roman ditches filled with pottery and tile, suggesting the site of a building here. Saxon burials were found on Hogshaw Hill in stone pits, but it is unclear which hill was known as Hogshaw Hill in the mid-19th century.
Quainton is recorded in Domesday, along with Shipton Lee as separate settlements. It was part of Bernwood Forest from before that time. Bernwood had been a hunting forest from the time of Edward the Confessor. It grew to its largest extent under Henry II. The whole area was not covered by woods; in the medieval period a forest was a place where deer roamed for hunting and so included open land, villages and fields. All those who lived in the forest were not allowed to hunt or even gather wood without a special licence from the king. Bernwood Forest was finally disafforested in the reign of James I in 1635, although it had been shrinking in size since the time of King John (1199-1216). There is a great deal of ridge-and-furrow surviving around the parish.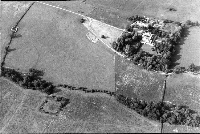 The moat of a medieval manor house can be seen south of Doddershall House and there is another at Denham Lodge, which was formerly a mansion. 15th to 16th century decorative stonework has been found near here. The current Denham Lodge is 17th century in date and was built on the site of the medieval manor house. There is a complex of features around it, including fishponds and house platforms to the north, a 16th century gatehouse on the south arm of the moat, and the brick walls of a deer park enclosure. There are 13th century records of a deer park, but it is unlikely to be the same one. There is also a possible moat west of Doddershall House, but this is also interpreted as a possible ornamental pond.
There are records of a possible hermitage and chapel in Finemere Wood at Shipton Lee. Grange Farm at Shipton Lee belonged to the Cistercian monastery at Thame. The farmhouse is now 17th century, although there is an earlier 16th century barn. An 18th century dovecote is now a workshop. There are also medieval fishponds and a house platform of the medieval grange. After the Dissolution of the monasteries, the Dormer family lived here. There was a small village south of Middle Farm in Shipton Lee that is recorded as having been depopulated in 1504. A 13th century record also notes a watermill attached to Grange Farm and this may be in Fiddler's Field near Lee and Doddershall Woods.
2 Church Street is a 15th century solar of a bigger house that has since been demolished. The solar was like a parlour and would be where the family would retreat in the evening. Most of the other listed buildings in Quainton date to the 17th century. Holy Cross church is the oldest standing building in the parish, however, as it was built in the 14th century. It was in a state of disrepair in the 16th and 17th centuries and was restored in the 19th. A row of alsmhouses was built next to the church by Richard Winwood in the 17th century.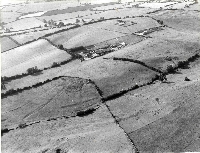 Doddershall House itself dates back to around 1510 and was originally a courtyard house surrounded by a moat, but the western wing was taken away in the 18th century making it U-shaped. The moat is also mostly now filled in but part of it survives as a fishpond. There was a small hamlet north of Doddershall House in the medieval period. It is recorded as having 120 people living there in the 15th century but by the early 16th, the land was enclosed and the inhabitants evicted.
The King of the Gypsies may have been buried in Quainton. A gravestone sits on Carter's Lane that has the inscription 'Bozwell' and 'First Day of 1641'. The New Year in the 17th century was 25th March, although 1st January was also celebrated. There are records in the parish register of St Mary's in Aylesbury that Edward Boswell, King of the Gypsies, and Tynimere and Edward Smith were executed on 20th March 1641. There were laws against vagabondage in the 17th century. The gravestone appears to have been moved from its original position.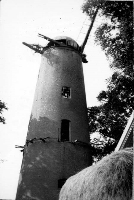 It may have originally stood at Fieldside Farm. Quainton has the tallest tower mill in Buckinghamshire at 65 feet (c. 20m) high. It was built around 1830 and the bricks were made just to the north although all that's left of the brick kiln is a round depression and a linear depression for the flue. It was abandoned in 1881 and lay derelict for almost a century before restoration began in 1975. There are two other possible windmills south-west of Grange Farm and one between Lower and Upper South Farm but all that is left is the mound. It is in a field called Windmill Knob. North of here is a feature that has been interpreted as a Civil War gun emplacement. Blagrove Windmill was built in 1797 north of Lower Denham Farm. Bricks from the foundations were used in building an oven in a nearby house in 1915 and all that can be seen now is a very slight mound.
The 19th century brought industry and changes in transport. A brickworks was set up to the east of Upper South Farm but all that is left are the water-filled clay pits surrounded by thick woodland. The Aylesbury to Buckingham railway, opened in 1868, also passed through Quainton. It was taken over by the Metropolitan, and Quainton Road Station was built in 1897, and then London Transport in 1933 and closed soon after. The station is now the site of the Buckinghamshire Railway Centre. Part of Rewley Road Station in Oxford was brought here after demolition and re-erected. It is in use as the visitor centre. The Grendon Underwood to Ashendon railway that was opened in 1902 also passes through Quainton. A couple of bridges carrying the railway over roads still survive, for instance near Woodland's Farm. The Duke of Buckingham also built the Quainton to Brill tramway, which was opened in 1870 and closed in the 1930s.
---