Marlow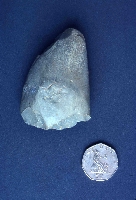 Prehistoric artefacts have been found in quarries and in the river. Palaeolithic flakes and axes; Mesolithic tranchet axeheads, cores, blades and flakes; Neolithic axes, knives, arrowheads, scrapers, a chisel, sickle, cores and flakes have been found in Marlow Brickworks pit, along with two Roman burials. A Palaeolithic flint flake was found in Up Hillside Pit and eight Palaeolithic flint flakes were also found in the garden of Remnantz before it was built on. Two Mesolithic tranchet axeheads, three Neolithic polished axes; a Middle to Late Bronze Age rapier; a Late Bronze Age sword and a socketed axehead; an Early Iron Age spearhead and two Iron Age currency bars were all found in the river. Work done by Marlow Archaeology Society at Low Grounds Farm has recorded a Bronze Age barrow cemetery. A mound near Oak Tree Road may also be a Bronze Age barrow, but is more likely to be left over from quarrying activity. Two burials were found at Highfields during the construction of a tennis court in 1881 and may date to the prehistoric period.
As well as the Roman burials found in Marlow Brickworks pit, Roman artefacts have also been retrieved from the Thames, such as one spear. A Saxon spear has also been found in the river. Late Iron Age and Roman pottery has also been found in the Hillside gravel pit, where there is thought to be a settlement. Roman building material and wall plaster was also found there. Iron Age and Roman pottery and Roman coins and flue tile were found at Beechwood Nurseries in fieldwalking.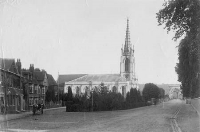 There are records of several buildings in medieval Marlow, such as the Hospital of St Thomas, mentioned in 1384; the St Peter's street bridge that dated to the thirteenth century before it was replaced in the nineteenth; the Market House, which had a similar life-span; a chapel on Chapel Street; Marlow and Gosenham Mills are recorded in Domesday; the medieval All Saint's church that was replaced in the nineteenth century; the Conventual Barn at Bisham Abbey; and a thirteenth century deer park whose location is unknown. There are other records of a sixteenth century prison and whipping post north of All Saints church and a Civil War rampart near Great Marlow church.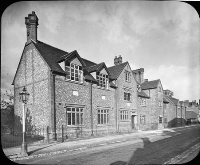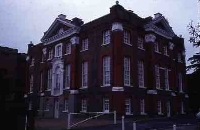 The only medieval buildings still standing are 24 High Street, which dates from the fourteenth to fifteenth century, and the Old Parsonage on St Peter's Street, which also dates back in part to the fourteenth century. Borlase School was established in the early seventeenth century and still occupies the same buildings. Most of the other buildings in Marlow are eighteenth century in date. The big town houses were built in the eighteenth century, such as Remnantz; Tilecotes House; and Marlow Place. Salem Chapel, now a United Reformed Church, was built in the eighteenth century. Holy Trinity Church and St Peter's Roman Catholic Church were both built in the nineteenth century. Even the red telephone box opposite All Saint's church is listed as it is based on a classic 1935 design. Many of the houses on the High Street, Mill Street, Chapel Street and West Street are listed. Western House garden has an eighteenth century gazebo and garden wall to go with the house built in 1699. Gardens are also recorded on the Registered Parks and Gardens list. Spinfields and Beechwood both have nineteenth century gardens.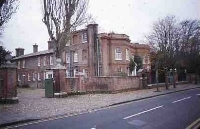 The later centuries also brought industrialisation. Marlow Mills became paper mills in the eighteenth century, and also made thimbles. Wethered's brewery, formerly on the High Street, was established in the eighteenth century on the site of the Three Tuns Tavern. Burnham and Marlow Brick Company was also established in the eighteenth century. Several gravel pits were also dug around the parish, for instance at Gossmore Lane, and east of Sentry Hill. Twentieth century monuments include Marlow Cottage Hospital, which was built in 1915, and the Royal Observation Corps post at Dedmere Rise Allotments.
Want to find out more? Read the detailed historic town report for Marlow (below).
---