Gerrards Cross
Lots of prehistoric artefacts have been found in Gerrards Cross. Several are Palaeolithic in date. Four Lower to Middle Palaeolithic handaxes were found in the parish somewhere, but their provenance is not known exactly. Another was found on Oxford Road, several were found in Bulstrode Park and one in Chalfont Park. These are likely to have been found during ground disturbances such as gravel pits.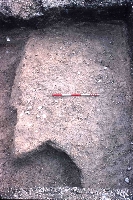 A couple of Mesolithic occupation sites are also known. One is at the Misbourne Viaduct where Mesolithic flints and animal remains were found. Occupation carried on into the Neolithic and Bronze Age as well. Another site was excavated in advance of the bypass and south of Oakend Cottage a Mesolithic flint-working site was found. Many flint cores were found on site, suggesting this was where flint tools were manufactured. Some tools were also recovered, including scrapers, blades, burins, microliths, axes and a tranchet axe head. The flint-workers kept themselves warm while working with a small fire. Mesolithic to Early Bronze Age flints were also found in Wapsey's Wood, in Ten Acre Field at Isle-of-Wight Farm and in a garden on Oval Way.
Neolithic to Bronze Age flint artefacts have been found at Oakend in advance of the Chalfont St Peter bypass, in Chalfont Park, at Isle-of-Wight Farm and various other places. Some flint artefacts have been found in gardens in Camp Road, such as a Neolithic to Bronze Age hammerstone at Diavolezza, and a side scraper and borer at Long Patch. A possible Neolithic long barrow was identified in geophysical survey at Bulstrode Camp, which is itself an Iron Age hillfort. The geophysical survey also revealed a possible D-shaped enclosure and hut circles.
The Gerrards Cross area seems to have been important for Roman pottery making. Early Roman pottery kilns have been excavated at Hedgerley in advance of gravel extraction. They dated to the second century AD and not only the remains of kilns but kiln furniture and pottery were also found. Some were also found in advance of the construction of the M40 motorway, for instance at Moat Farm. Pottery sherds from Polkerris on Camp Road suggest the presence of a pottery kiln here, too. Two pottery kilns of a similar date were also excavated at Springwood on Hedgerley Lane. Two Roman roads are thought to pass through the parish, so the pottery could have been transported quite easily.
Moat Farm was the centre of Temple Bulstrode manor in the medieval period. This was a Knights Templar's Preceptory in the thirteenth and fourteenth century. An early fourteenth century building was found surrounded by a moat in excavation. Another manor in this parish was Bulstrode Manor. Bulstrode Park is on the site of a medieval deer park. There was a nineteenth century mansion in the park, which was built on the site of an earlier house built for Judge Jeffries in the late seventeenth century, but it is now gone. A medieval watermill is known from historic records at Oakend, called Noke Mill. Other medieval artefacts have been found in excavation, such as the fourteenth century tile works also at Oakend and the ditches, pits and pottery found at Moray House on Camp Road.
Gerrards Cross therefore had a long industrial history, from the Mesolithic flint-working site to the Roman pottery kilns to the medieval tile works. Later industrial sites have also been found, such as a charcoal-burning site found at Oakend Wood in advance of the construction of the M40. There were also quarries and lime kilns in Bulstrode Park in the nineteenth century and an eighteenth to nineteenth century pottery kiln at Oakend, too. Gravel and sand quarries are also recorded on nineteenth century maps near Wapsey's Wood.
Most of the listed buildings in the parish also date to the eighteenth and nineteenth centuries, such as Heatherside and Ponders. 1-5 Hartley Court is a set of nineteenth century almshouses. St Hubert's House was a hunting lodge belonging to Bulstrode Park but was turned into a country house. Even St James' church is nineteenth century. The whole character of Gerrards Cross was changed when the railway arrived in 1906, which is very noticeable in historic maps.
Want to find out more? Read the historic town report for Gerrards Cross (below).
---