Stoke Mandeville
The Aylesbury Past Project was made up of a number of field-walking surveys. Stoke Mandeville was part of this scheme and so quite a few artefacts have been recovered from the fields around the settlement. A Mesolithic scraper, Neolithic blades and flakes and Iron Age, Roman, medieval and post-medieval pottery were found north of the church. A prehistoric flint flake and medieval and post-medieval pottery was found west of Hampden Hall. Roman pottery and other artefacts have also been found in the allotments and Roman pottery was found in field-walking close to the Woolpack Inn.
Some trial trenching has also been done at Stoke Grange and Red House Farm. Roman ditches, pits and gullies with associated pottery and animal bone were found at the former. Late Bronze Age pits, boundary ditches, gullies and an inhumation and Roman pottery and animal bone were found at Red House Farm.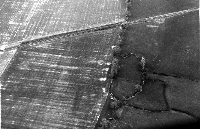 A great number of medieval earthworks and features are also known. A lot of medieval pottery was found in the Aylesbury Past project. There is also a possible medieval fishpond, moat and other village earthworks at Hall End Farm, a moat and house platforms at Brook Farm, a moat at Moat Farm, a moat and village earthworks north of the old church and a moat at Stoke House. There are also historical records of medieval or post-medieval dovecotes and manor houses at Manor Farm and Stoke House and a watermill at the latter. Historical records suggest several manors: Newbury, Oldbury and Stonors. The old medieval St Mary's church was abandoned in the nineteenth century and a new St Mary's built that used many of the medieval fittings.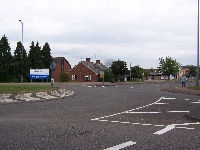 Many of the secular buildings are seventeenth or eighteenth century, though St Mary's Cottage may incorporate medieval fabric. Hall End and Stoke House may be former manor houses. There is also a windmill recorded on an eighteenth century map. Stoke Mandeville Hospital has had a large impact on the parish. It started out as a military hospital but has since become a general hospital and has grown significantly.
---