Granborough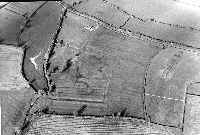 The earliest remains in Granborough are of a Roman road that is thought to pass through the parish and some Roman pottery found in foundation digging in Winslow Road. A study has been done on the tenth century manor boundaries in this area and it is possible to trace the southern boundary of the parish as a low bank. It is though that Dammerham Slade, north of Tuckey Farm, was the main supply of water for a settlement named Deneburgham. A possible tenth century settlement or gallows is suggested at Staple Piece Farm. Slightly later medieval settlement earthworks have been recorded at Rookery Farm and to the north of Millknob Hill, along with a moat and historical records of a chapel at the latter.
St John the Baptist church is the oldest surviving building in the parish, dating to the fourteenth and fifteenth centuries. Fifteenth century artefacts, such as a possible altar stone and a chrismatory, a vessel for carrying holy oil, have been found in the twentieth century, the former in the wall of a farmhouse and the latter in works to the church.
Sixteenth century records, mainly in the form of the 1599 Salden Estate Map, have suggested the presence of a windmill at Millknob Hill and a watermill and ford near Shipton Farm. The Biggin Estate is also on the map, with a farmstead marked that has now disappeared. Some of the secular buildings in the parish are of sixteenth or early seventeenth century date, such as 23 Green End and Rookery Farm. Other listed buildings date to the seventeenth or eighteenth century, some with a few nineteenth century alterations but there are no records of the industrial nature of the nineteenth century.
---