Iron Age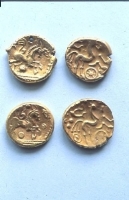 The Iron Age starts in Britain around 700 BC and continues until the invasion of the Romans in AD 43. It is traditionally the period when iron was first used. Iron was used for tools and weapons and bronze artefacts became prestige items. Unlike in the Bronze Age few metal items were deliberately deposited in watery places such as rivers and bogs. Those that are, though, are the most elaborate items such as the Battersea Shield and daggers and sheaths from Mortlake and Hammersmith, all from the Thames.
Hillforts are one of the best-known types of monuments of the Iron Age, but there is evidence of Late Bronze Age origins for many of them. The most famous hillforts in Britain are Maiden Castle in Dorset, Danebury in Hampshire, and Castell Henllys in Pembrokeshire. Maiden Castle is very large and has a series of ramparts. This is known as multivallate. Some hillforts are not on hills, some are univallate, with only one rampart, and are quite small. Not many hillforts seem to have been defended settlements, like Maiden Castle. In some hillforts the interiors are almost devoid of remains, suggesting they weren't lived in at all. This has led to suggestions that they were sanctuaries in times of emergency, storage centres or cattle corrals. It is likely that hillforts played a number of roles.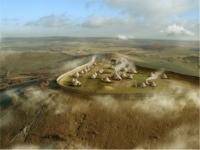 In Buckinghamshire we have a number of hillforts that seem to form a line along the scarp of the Chiltern Hills. In the east we have Ivinghoe Beacon, Cheddington, Boddington in Wendover Woods and Pulpit Hill in Pulpit Wood. Further back in the Chilterns there is Cholesbury, Bulstrode Camp in Gerrards Cross, Whelpley Hill and West Wycombe, which is now rather overshadowed by the medieval church and eighteenth century mausoleum. There are also a set of hillforts associated with the Thames, two at Medmenham (Medmenham and Danesfield Camps), Seven Ways Plain at Burnham and a recently discovered one at Taplow. Iron Age ditches suggestive of a hillfort have also been found in excavation at Aylesbury. These hillforts were not all occupied at the same time, Ivinghoe, Taplow, Boddington and Medmenham may have Late Bronze Age origins, others seem to date to the Early or Middle Iron Age and only two may have been occupied on into the Late Iron Age, West Wycombe and Cholesbury. With the exception of Ivinghoe, which was densely occupied, there has been very little excavation. The little excavation at Cholesbury Camp revealed evidence of iron-working.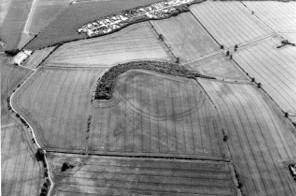 Well known Iron Age settlement sites in Britain include the Early Iron Age in Wiltshire, which was excavated by Gerhard Bersu during World War II, Gussage All Saints in Dorset and Winnall Down, Hampshire. Settlements are very similar in the Early and Middle Iron Age and usually consist of a number of roundhouses, identified by post-holes set in circles, pits for grain and rubbish and granaries, where four post-holes are set in a square. These settlements can be either enclosed by an encircling ditch or completely open. They are often associated with field systems.
Iron Age settlements have been excavated at Coldharbour Farm on the north-west side of Aylesbury. This dated to the Early Iron Age and was a settlement of at least three houses enclosed with a boundary ditch. An Early Iron Age settlement found in Pitstone Quarry had a rectangular long-house and associated storage pits and ovens. Middle Iron Age settlement is similar in character, with two examples being excavated in advance of the Stoke Hammond Bypass and in George Street, Aylesbury. Storage or rubbish pits, round-house gullies and other ditches were identified at both. The Late Iron Age site at Bierton is very extensive, having a round-house, enclosing ditch, gullies, pits and other post-holes, and has been compared to the oppidum at Braughing in Hertfordshire. Late Iron Age settlement often continues into the Roman period. A Late Iron Age rectangular house was identified under Latimer Roman villa when it was excavated in the 1960s and more recent excavations at Eton Rowing Lake uncovered an enclosed Late Iron Age settlement with a rectangular and a circular house that continued in use until the third century AD.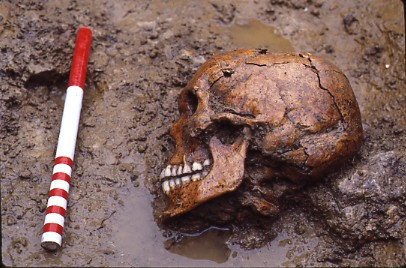 Human remains may have been placed in rivers or disposed of on rubbish heaps. It may be that the dead were excarnated and their bones used in communities for ritual purposes. Either way, burials are very rare in the Early and Middle Iron Age. A number of rich burials are known from the Late Iron Age, though the majority of people are still not formally buried. The rich burials seem to have centred on Kent, Essex and Hertfordshire. Few well-dated Iron Age burials have been found in Buckinghamshire. A human skull dating to the Early Iron Age was found in Aylesbury hillfort ditch in excavations at The Prebendal. It may have been placed there as a ritual commemoration of the boundary. Late Iron Age cremation burials have been found near Dorton House, where a very fine mirror was found, and at Rye Close in Bledlow, but other possible Late Iron Age burials are less securely dated.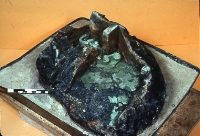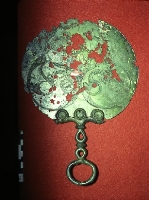 When the Romans invaded in 43 AD under the Emperor Claudius, Britain was soon conquered, but the Iron Age way of life stayed the same for many people for some time.
---