Foscott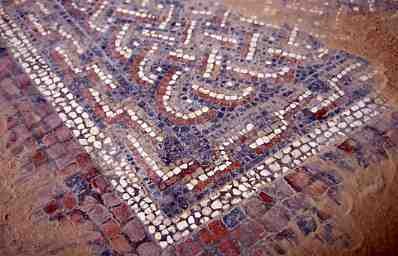 Some prehistoric artefacts have come to light, a probably early prehistoric hand-axe, a late prehistoric hammerstone and a fragment of Iron Age quern, possibly all from the gravel quarry in this parish. Later, a Roman villa was built. This was investigated several times in the nineteenth century and yielded several mosaic floors and lots of tile, brick and pottery. Later field walking has turned up much of the same kind of material but also a shale table leg. A possibly Roman burial was also found in unofficial digging at the villa in 1973. Roman pottery has also been found at other locations, particularly when digging for the Hyde Lane and Foxcote reservoirs, but this is not unexpected as two Roman roads run through Foscott parish.
The church is the oldest standing building, having been started in the twelfth century and added to with a chancel in the fourteenth and a porch in the fifteenth centuries. It was converted to a house in the 1970s. In between the former church and the former manor house, which is now a younger building, there are earthworks of what appear to be medieval house platforms. The village of Foscott was slightly larger in the medieval period, it seems. Medieval ridge-and-furrow has been identified outside the village on aerial photographs. There is a historical reference to a Totes Bridge in the fourteenth century, which now has an eighteenth century casing.
What was the former manor house is a seventeenth century building with alterations in the eighteenth, nineteenth and twentieth centuries. The gardens and parkland around date to the nineteenth century, though they have seen some alterations. There are seventeenth century records of the rectory having a pottery kiln in its grounds. The Grand Junction Canal, built in stages between the eighteenth and nineteenth centuries, also passes through the parish.
---