The medieval period
The start of the medieval period in England is generally set at 1066, the year of the Battle of Hastings and the invasion of England by William the Conqueror, Duke of Normandy. The end is less easy to establish. Some take the Disolution of the Monasteries in 1539 AD as the end of the medieval period and this is what is used in the Historic Environment Record.
Study of the medieval period in the past was characterised by studies of kings, churchmen, battles and wars. More recent trends have focussed on the lives of normal people. Archaeology has a large role to play in this study, as it is usually the traces of the lives of more normal people that are found. Much has been learnt about the diet, clothing, buildings, trading activities and beliefs of the majority of society from archaeological investigations, as in the preceding Anglo-Saxon period.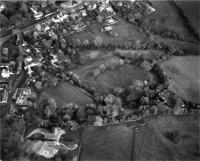 Characteristic monuments to be found in the landscape from this period include castles, churches, moats, fishponds, ridge-and-furrow, deserted medieval villages and a few houses. Castles were built at first of wood and earth and known as motte and bailey castles. The keep or donjon was built on a conical mound of earth, the motte, which was surrounded by an area of subsidiary buildings and an outer palisade of timber. A castle of this kind is reconstructed at Stansted Mountfichet in Essex. The motte is usually all that survives and possible mottes can be seen in Buckinghamshire such as Bolebec Castle, Whitchurch, and The Beacon, Cublington.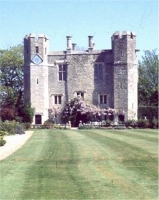 No stone built castles can now be seen in Buckinghamshire, though it is possible that there was one at Buckingham as it was established as a burgh town in the tenth century and may have continued to be important defensively in the eleventh century. Boarstall Tower, although appearing to be a stone-built castle, is actually fourteenth century and is only the gatehouse of a once bigger defended house, rather than a castle.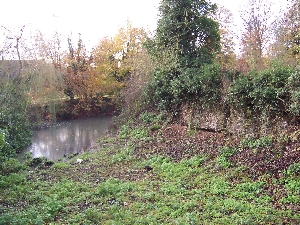 Northern Buckinghamshire has many medieval moats and fishponds. The moats may have contained homesteads at one point, though this has to be demonstrated at each individual site and some may have been for stock control. One moated site that seems to have enclosed a manor house is known at Grove Farm in Ashley Green. The moat is revetted with stone walls and surrounds the current manor house that may incorporate a fifteenth century chapel from the manor house. Fishponds also tend to be associated with great houses or manor houses as it would have been a sign of status for the lord of the manor to be able to keep fresh-water fish for use on fish days when the eating of meat was forbidden, which throughout most of the medieval period was Wednesday, Friday and Saturday. A complex of fishponds has been surveyed at Grange Farm, Quainton. This farm was a grange, or a farm attached to a monastery. The fishponds would have been very useful in supplying the monks with fresh fish.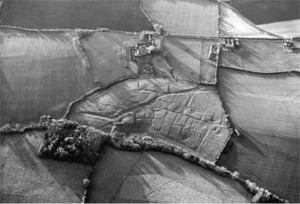 Most towns and villages in Buckinghamshire were recorded in the Domesday Book, compiled in 1086 for William the Conqueror. No houses in Buckinghamshire are this old but the villages are usually based around this medieval core. Some villages in Aylesbury Vale have actually shrunk or disappeared since the medieval period. there are, for example, three deserted medieval villages in the parish of Quarrendon, just north of Aylesbury, and another at Lower Burston Farm in Aston Abbotts. These deserted medieval villages have not been excavated, unlike the most famous deserted medieval village called Wharram Percy in Yorkshire. Ludgershall, Creslow and Pitchcott are all villages that have shrunk since the medieval period.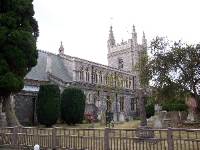 Most villages have a medieval church. The oldest church in Buckinghamshire is All Saints at Wing that may date back to the seventh century AD, but many other surviving parish churches were built in the twelfth century, for instance All Saints in High Wycombe and St Mary and All Saints in Beaconsfield. Several churches were built in the fourteenth and fifteenth centuries, too, such as St Lawrence's in Cholesbury and Stowe parish church.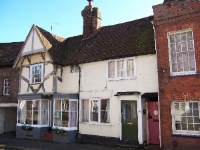 Most older houses have been altered in later centuries. There are a number of fifteenth century cruck-built houses in Long Crendon and surrounding areas that have survived more or less unaltered. Other medieval buildings have not been so lucky. 54-56 Church Street in Chesham is a fourteenth century timber-framed house that has now been divided in two. No 54 was the cross-wing and No 56 was the hall. Hall houses were common in the medieval period. It started as the main room in the house and was used for eating, sleeping and working. It would usually be separated from a kitchen and storage rooms. The hall would be open to the roof and heated with an open fire. People added fireplaces from the fourteenth century but it was not until the sixteenth and seventeenth centuries that a ceiling was often put in to create another floor. The cross-wing was a later medieval addition to the traditional hall-house. Separate rooms for the family would be provided in the cross-wing, like a parlour, bedrooms and other chambers.
Medieval fields were, for the most part, open. There were no field boundaries and each farmer ploughed a number of furrows scattered around the village. These open fields have left ridge-and-furrow behind, which gives a characteristic corrugated look to the countryside. The ridge was where crops were planted and the furrow was useful for drainage. Fields started to be enclosed in the late medieval period, the fifteenth and sixteenth centuries, when landlords wanted to keep herds of sheep in fenced fields rather than rent out land piecemeal to farmers. Where the land has not been ploughed since, the ridge-and-furrow survives very well, for instance at Ludgershall. Later enclosure in the post-medieval period was much more regular and cleared away the medieval landscape.
---