War in the air
Aeroplanes were used much more in the Second World War than in the First World War. British planes were sent over to bomb German towns and fly secret missions in Europe and German planes were sent to bomb British towns and for reconnaissance missions.
The airfields are mostly north of the Chilterns or in the south of the county in the Thames valley. The land is flatter in these places and so better for landing and taking off. The Chiltern Hills that cross the middle of the county are too hilly for airfields.
Mostly the airfields were used for training airmen and mechanics but, later in the war, planes flew from Buckinghamshire's airfields to raid Germany during the night, and on D-Day, 5th June 1944.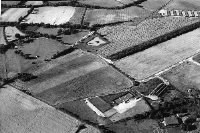 Wing
Wing airfield opened on 17th November 1941, though the runways were not finished and the first flight did not happen until March 1942. It was soon used as a training unit, though some real missions were also flown from here.
The parch-mark in the grass in the bottom left of the photo shows the location of one of the runways at Wing airfield.
Lots of buildings were built, such as hangars for the aircraft, offices, canteen, rest rooms, blast shelters, radio and telegraph rooms, training blocks, church, gym, squash court, rugby and football field, cinema, tailors, barbers, shoemakers, Post Office and stores. The cinema showed two films every night except Thursdays, when those stationed there were encouraged to showcase their talents!
There were 13 domestic sites, each with up to 20 Nissen huts, some toilets and one or two air-raid shelters. The female workers, the Women's Auxiliary Air Force, had their own site closer to Wing village, much of which can still be seen today. There was also a hospital close to Cublington, some of these buildings are also standing.
The motto written on the Navigation Section at Wing was "MAN IS NOT LOST". Someone had written graffiti underneath this: "But occasionally is completely unaware of his exact location."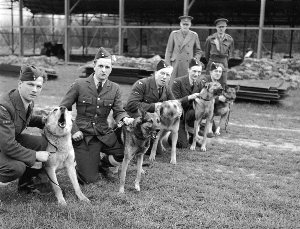 The airmen cycled to local pubs in Wing, Stewkley, Cheddington and Cublington in the evenings or local train stations on their days off so they could go home and see their families. Often entertainment was put on at the airfield as well, such as dancing. There were also weekly dances at Wing village hall.
(Information from Brooks, R.J 2000. Thames Valley Airfields in the Second World War. Newbury: Countryside Books.)
Westcott
Westcott airfield was one of the first to have aeroplane simulator training. Before high-tech computer generated simulators, the "Dummy Fuselage Scheme" was put together to train airmen. The fuselage of a Wellington plane was installed in Westcott in September 1942. The pilot sat at the controls and the bomb aimer below him would give instructions for bombing a target projected onto a screen below.
There were also training exercises in the air but these were almost as dangerous as real missions and many died. A whole crew and plane were lost on 15th March 1943 when the pilot realised he was too high to land and tried to overshoot the runway and pull up, but the engine stalled and he crashed. It had been returning from a training mission called Bullseye where the airmen got to fire live ammunition. There were also training missions against Hurricane planes that used cine-guns, fake guns that could record a hit or miss.
(Information from Brooks, R.J 2000. Thames Valley Airfields in the Second World War. Newbury: Countryside Books.)
Oakley
Frederick Brown, a gunner in the RAF described how he was posted to an airfield in Buckinghamshire:
"Oakley a camp that defied description. Mud, more mud, everything seemed dripping wet, the mess, bare, little or no comfort, cold, everything was basic. Nissen huts without heat, no stoves to give a glimmer of comfort." (BRO 1995, 6).
Frederick went on to describe how a plane's crew had gone up for flying practice and the next day a fellow airman was clearing their belongings up:
"I asked why, he told me they had all been killed in a crash the night before. The same day, another crew had moved in. Another crew lost before striking a blow in anger." (BRO 1995, 6).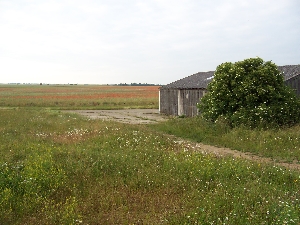 Haddenham
Haddenham airfield was requisitioned by the government from 1940 as the base for the Glider Training Squadron. It was hoped to use gliders to land troops in occupied Europe. Haddenham airfield was described in a history of military gliding published in 1967, written by Lawrence Wright called "The Wooden Sword":
"It looked like a small field; less than half a mile each way. There were trees on two sides, a factory in one corner, and on a third side a deep railway cutting… When a train passed, a wall of steam rose in the cold damp air and blotted out the approach view… There were no tracks or paths: you drove in through a field-gate… The ground varied from old ridge-and-furrow… to patches of new grass and standing pools… There was a tiny hangar for light aircraft, three of them with their wings folded; but no other building, not a hut, not a tent, and of course no services."
Headquarters was at first in Yolsum House (demolished in 1988) in Haddenham and then, later, in Thame, as was the Officer's Mess until December 1941 when it was transferred to Dinton Hall. The lower ranks were housed in Thame workhouse and officers were billeted at a house in Chearsley. More buildings were eventually erected on the airfield for the gliders and airmen. When training commenced, one of the trainees managed to land on the newly erected Sergeant's Mess.
King George VI and his wife Queen Elizabeth visited Haddenham Airfield on 27th June 1941. They were given an aerobatic display. Tiger Moth aeroplanes would tow the gliders and then let them go. However, in 1942 it was decided that Haddenham was too small and Glider Training was moved to Northamptonshire. There was a Glider Instructor School here until 1943 until that moved as well. The airfield was expanded at this time, and Windmill Road in Haddenham was closed so the next field could be used.
After the Glider Instructors left, Haddenham was taken over by the Air Transport Auxiliary, which delivered planes that had been repaired to the military airfields where they were needed. Haddenham was to be the training school for the civilian airmen in the operation. The trainees were put up in concrete huts that the gliders had left behind and fed in the RAF's communal feeding and social centre, now Haddenham Library. The Air Transport Auxiliary started winding down their work in 1945.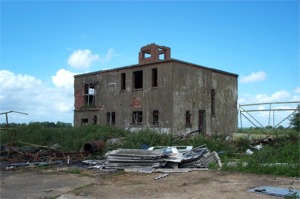 Finmere
Finmere airfield in Tingewick was initially an outstation of RAF Bicester. There was a civil airfield before the war and this was used by planes from Bicester in 1941 but was only officially an RAF base from 1942. It became a training base from 1943. This building below was part of the military base.
The runways were not in a triangle like other airfields, but radiated like a fan from a central point.
Please contact the Council Archaeology Service for a copy of a 1946 RAF vertical aerial photograph of Finmere airfield.
Plane crashes
Elsie Maud Perrin told her granddaughter the story of a German plane crashing in Beaconsfield. She was making something in the kitchen when she saw a man running for cover outside and went out to see what was going on. The cockpit of a German plane had crashed and was sliding through the street. She locked eyes with the pilot inside as his machine gun was trained on her before the cockpit crashed, killing the crew (Elsie Maud Perrin: WW2 People's War).
Frank Coleman lived in Lillingstone Dayrell and saw a few plane crashes around due to the airbase at Silverstone, which is now a race track. One Sunday morning as everyone came out of church, an Airspeed Oxford plane came overhead, just missing the church and ploughing into a field over the other side. There were only two men on board, who both survived and were given tea and sandwiches at nearby Dayrell Hall (Frank Coleman: WW2 People's War).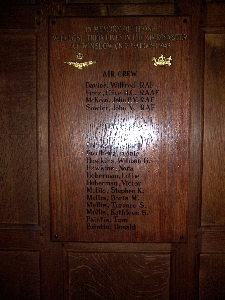 The worst plane crash in Buckinghamshire during the Second World War happened in Winslow. A Wellington aeroplane had taken off from Wing airfield at 1.25 am. During the flight the captain decided to return to Little Horwood airfield because the bombsight wasn't working. The pilot couldn't land because another plane had done a 'belly-flop' on the runway. He then tried to make another fly around the airfield but lost control of the aeroplane over Winslow. It hit the roofs of several buildings, 75-77 High Street, before crashing into the Chandos Arms pub. Seventeen people died in total, including the plane crew's cat, Wimpy, and all but one of the crew. There is a plaque at St Lawrence Church, Winslow, commemorating all those who died in the accident. Mavis Dyson who was 13 at the time remembered the night:
"I awoke to a dreadful noise and looking out of my bedroom window I could see smoke and fire and could hear shouting everywhere…There was a smell of burning petrol hanging over the town for many hours and the damage was dreadful." (Brooks 2000, 240).
Sheila Mullis was also a child and lost her parents and brother and sister in the crash:
"When I came to I managed to crawl out towards a red glow. There was nothing whatsoever left of the house. It was just rubble. It was a traumatic experience." (Warth 2001, 50).
Reg Langley was an ARP warden in Winslow and had the job of finding the bodies of those who had died and taking them to the mortuary:
"It's a funny thing with human beings, do you know that there was only two of the Rescue Squad who would move bodies and bring them up here to the mortuary." (BRO 1987, 38).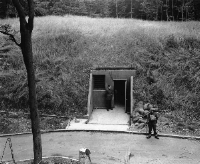 Bomber High Command
Bomber High Command moved to Naphill, High Wycombe in March 1940. Its commander-in-chief, Sir Edgar Ludlow-Hewitt, moved into a centre that had direct communications with all bomber groups and stations in Great Britain. He also had direct communications with Fighter Command and the Air Ministry. All air attacks on Germany were planned from here. There were many underground operations rooms where all the British planes were controlled.
The site was chosen so it could be camouflaged by the beech trees of the Chilterns. As these instructions on the 1938 plans say:
"The positions of all buildings to be checked and moved slightly, if necessary, to avoid removing trees. Roadway to be detoured to allow as many trees to remain as possible. No trees to be cut down without sanction of Air Ministry, other than are necessary to site the building." (Gilchrist 2000, 81).
The buildings were made to look like civilian buildings. The Air Staff Block was supposed to look like a Town Hall and the garage and central heating building was made to look like a church, being cross-shaped and with a tower at one end. The Officer's Mess was meant to look like a country house. Three Airmen's blocks were given sloped roofs that made them look like haystacks! During the war the station grew and a central mess was built in the woods.
Mrs D Hopson worked in the Women's Auxiliary Air Force (WAAF) and was posted to Bomber High Command in March 1940. She worked for Colonel Ivans in the Code and Cipher Department. She was a secretary and so wrote letters and made tea for the staff. She was also in charge of her lodgings and made sure that the other women in the Auxiliary Air Force kept their rooms and uniforms clean and tidy (Mrs D Hopson: WW2 People's War).
Another woman in the WAAF was Noreen Jackson. She worked in the operations department and kept track of the bombing that was happening over Britain and Europe during the day and night. She had a huge wall map and moved flags around to show all the movements (Noreen Jackson: WW2 People's War).
Jo Starr was also posted to Bomber Command but stayed at Wycombe Abbey School with the American servicemen, including Clark Gable and James Stewart. She worked at the message centre in the school, or RAF Pinetrees as it was known, before being transferred to the underground rooms at Naphill (Jo Starr: WW2 People's War).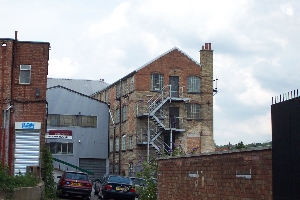 Aircraft factories
The government requisitioned many factories and other buildings to make aircraft during the Second World War. Some of the furniture factories in High Wycombe were perfect for the job, as the staff already had expertise in working with wood. Most of the aeroplanes used in the Second World War were made of wood. This was because metal was scarce and had to be used in making weapons.
E. Gomme Ltd in Leigh Street, High Wycombe, made wings and struts for Tiger Moths in 1940. Risborough Furniture in Princes Risborough and Hughenden Furniture in Slater Street, High Wycombe made parts for Phillips and Powis of Reading, who made the Miles Magister and Master aircraft. Various factories in High Wycombe, such as Parker Knoll, Styles & Mealing, Heathland Furniture and Dancer & Hearne, made parts for the Mosquito as well. It was said that parts for 5000 Mosquitoes were made in High Wycombe. The Ministry of Works requisitioned Beaconsfield Film Studios in 1939 for a company called Rotax to make aircraft engine magnetos.
Because many men had joined the army, navy and RAF to go to war, many of the factories were staffed with women. This meant that mainly women were making parts for aeroplanes.
Questions
Do a search for airfields on Buckinghamshire's Heritage Portal. You can print off your results on a map and label each airfield with its name. How many airfields were there in Buckinghamshire during the Second World War? Where are most of the airfields?
Do you think Frederick Brown liked the airfield at Oakley? Explain your answer. From what Frederick Brown says about the plane crash, what did he think about the crew being killed during practice? Explain your answer.
The airmen tried to keep their spirits up. Pick out one example from the text above where they tried to do this.
Why do you think Bomber High Command was built under the trees and made to look like a normal village?
Why do you think some men in the Rescue Squad, described by Reg Langley, would not move the bodies of those who had died in the plane crash in Winslow?
Do a search for anti-aircraft batteries on Buckinghamshire's Heritage Portal. If you find any, fill in this table below:
Go back to find out more about Buckinghamshire in the Wars.
---