Great and Little Hampden
A Mesolithic flint blade was found in Lodge Wood. Several Neolithic or Bronze Age artefacts have been found in Great and Little Hampden parish. Several flakes and a blade were found along a footpath west of Hampden House; a barbed and tanged arrowhead and scraper were found in Hampdenleaf Wood and a Neolithic scraper was found at Parslow's Hillock. No certain Neolithic or Bronze Age monuments exist in the parish, however. The possible Neolithic mound in Oaken Grove is more likely to be a medieval motte or windmill mound.
Grim's Ditch, a possibly Iron Age linear bank and ditch, runs for quite a way through this parish: between Lilybottom Lane and Redlands End, then on to Hampden Park, in Oaken Grove and south-east of Hampden House. Mesolithic to Bronze Age flint artefacts have been found near the earthwork, but it is probably later. It may have been a tribal or grazing boundary.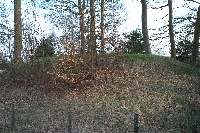 The Black Hedge is one of the oldest recorded boundaries in England. It was first identified in a Charter of 904 AD that described a Saxon Estate that was to become the parish of Monks Risborough. It also includes the parishes of Longwick, Kimble, Lacey Green and Hampden. The hedge is 14 miles long. Of the medieval remains in the village, Danes Camp is a small motte and bailey, or possibly a post-medieval garden mound or windmill mound. If the former it would probably have been constructed in the twelfth century during the wars for the crown fought between Matilda and Stephen.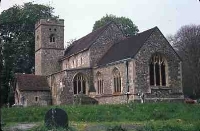 A possible medieval village, later deserted, has been suggested at Great Hampden but there is no evidence for it on aerial photographs. A fifteenth century deer park is known in Great Hampden from historic document, however. There are two churches in the parish, one at Little and one at Great Hampden. Little Hampden church has a twelfth century nave and chancel, with some later additions. Thirteenth to fifteenth century wall paintings also survive inside. St Mary Magdelene church in Great Hampden has a thirteenth century doorway but the aisles are fourteenth and the chancel fifteenth. John Hampden, who protested against Charles I's collection of Ship Money from inland counties and became a Parliamentary hero of the Civil War, is buried here. There is a nineteenth century monument commemorating this event north-east of Honor End Farm.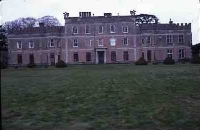 Some of the secular buildings in the parish date back to the medieval period. Hampden House has fourteenth century beginnings but was modified in the eighteenth century. Others houses, such as Manor Farm, Cherry Tree Cottage and The Thatch have fifteenth century origins. Other listed buildings are mainly eighteenth and nineteenth century. There is some evidence of industry in the parish, with Ironbeech Kiln, a brickworks, appearing on seventeenth to eighteenth century maps.
---