Mursley
A few prehistoric flint artefacts have been found in Mursley parish, including Mesolithic flints in Salden Wood and two Neolithic flint axes near Mursley. A couple of prehistoric settlements were recorded in excavation and watching briefs at Mursley Hall Farm and Richmond Lodge. The latter appears to date to the Iron Age from the pottery that was discovered.
There is a great deal of Roman activity in the parish, including a suspected Roman road running through here. Roman pottery, tiles, fragments of querns and building stone have been found all over the parish near Salden House, and in Mursley itself after deep ploughing. A possible Roman site was identified at Cowpasture Farm when trial-trenching revealed tessellated floors and pits and ditches with Roman pottery in them. Another site was found in Salden Wood when a rubbish tip was being filled in. Excavation and survey recorded an early Roman burial, two houses and pits with Roman pottery and metal-working slag. The latter may suggest this was the site of a Roman metal-smelting site.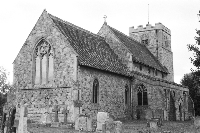 There are what appear to be medieval earthworks around the parish but the oldest standing building is St Mary's church. This was constructed in the fourteenth century, the tower was built in the fifteenth and it was restored in the nineteenth century. Two hundred metres away are the remains of a medieval moat that would have once surrounded a house. The mound in Mount Pleasant field may be a medieval to post-medieval windmill mound, though there is some debate about its function, and medieval pottery and a mill-stone have been found in excavation there. Medieval pottery has been found in the fields around Salden and a cobbled floor and building stone was uncovered during deep ploughing. Medieval pottery and possible house platforms have also been identified around Salden House Farm.
Historical records flesh out the medieval period in Mursley. The charter for a Thursday market was granted in 1230 and so the village would have had a market cross, though it is not known where this stood. A chantry chapel is also known in the village from historical records, established in the thirteenth century and in ruins by the end of the sixteenth. A medieval watermill is attested to by historical records and appears, from field-name evidence, to have been sited in Millfield. A small hamlet called Hyde appears to have since disappeared and may only be remembered in the field name Hyde Meadow.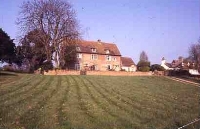 Many of the listed buildings in Mursley are sixteenth or seventeenth century timber-framed houses, though some houses are later in date. Salden House was built in the late sixteenth century, though much was taken down in the eighteenth. Excavations revealed the rest of the house along with the brickworks that made the bricks to build it. Perhaps the family that lived there were the ones who buried a box with several coins of Charles II's reign on Whaddon Chase which was dug up in the nineteenth century.
There are records of several lost eighteenth to nineteenth century windmills in the parish. The first OS maps in the nineteenth century also reveal a number of gravel, sand or clay pits and field barns that have since disappeared. The latter will have gone as the size of the fields increased due to greater mechanisation.
---