Woodham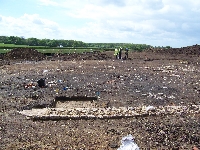 A Middle to Late Iron Age layer was found in excavations for a pipeline at Newhouse Farm. Pottery and animal bone was found in a layer that had been redeposited by a river probably some time in the Iron Age. The animal bone was radiocarbon dated to 330 +/- 80 BC. Akeman Street, a Roman road from London to Cirencester, now followed by the line of the A41, runs through Woodham. Recently a Roman building with a stone facade was found in excavations along another pipeline, close to the first.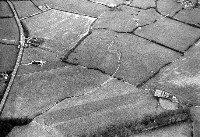 The medieval village of Woodham, also known just as Ham, has now mostly disappeared and there are a jumble of earthworks where it once stood as seen on aerial photographs. Woodham was part of Bernwood Forest. Bernwood had been a hunting forest from the time of Edward the Confessor. It grew to its largest extent under Henry II. The whole area was not covered by woods; in the medieval period a forest was a place where deer roamed for hunting and so included open land, villages and fields. All those who lived in the forest were not allowed to hunt or even gather wood without a special licence from the king. Bernwood Forest was finally disafforested in the reign of James I in 1635, although it had been shrinking in size since the time of King John (1199-1216).
A 1580 map of the area records that the village also had a moat, probably the site of the medieval manor house, near the old Akeman Street Station. There was also a windmill near Binwell Lane Farm marked on the map. Collet or Colwick mill is mentioned in a document of 1291, and this was probably the site of it, although there was also a watermill. This was part of Colwick manor. Collett Farm is a 17th century building and may have been the site of Colwick Grange, belonging to Woburn Abbey. Ham Farm has fishponds next to it, suggesting it was a manor house. A road is mentioned running from the London road to Binwell End Farm in 1766, possibly a medieval road to the mill. There are also records and earthworks of Collett hamlet.
Of the standing buildings in Woodham parish, Newhouse Farm and its buildings are Grade II listed and date to the 18th and 19th centuries. In the early 20th century an extension to the railway at Grendon Underwood was built through Woodham towards Ashendon. It was carried over the A41 by a bridge, of which now only a pier survives, and there was a station near Akeman Street.
---