Empire
From the sixteenth and seventeenth centuries, Britain started to build up colonies in far off places, such as the Caribbean, the Americas and Australia. The East India Company, that was given its charter in 1600 by Queen Elizabeth I, set up trading posts in India, China and Japan and other places in Southeast Asia and the Far East. This led to the establishment of colonies in these areas too. Over the years the government of these places became more and more formal. Some of those involved in building this British Empire came from Buckinghamshire.
Governors
In 1628 Taplow House, the precursor to Taplow House Hotel, was given by James I to Hampson, first governor of Virginia in America.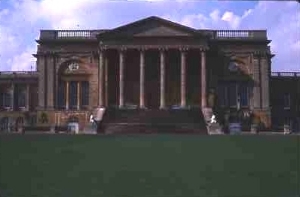 Sir Richard Temple, the first owner of Stowe in the 17th century was Lieutenant-Governor of Bengal. Sir George Nugent, relative of the Temples in the 18th and 19th century, was Lieutenant-Governor and Commander in Chief of Jamaica from 1801-1806.
Richard Philips (1661-1751) lived at Burnham Beeches House, now also a hotel. He was Governor of Nova Scotia in Canada from 1717 to 1749, though several people acted in that post for him while he stayed in Buckinghamshire!
William Penn was born in 1644 and baptised in the Anglican faith, but as an adult joined the Society of Friends (or Quakers as they are also known), after being impressed by the faith on a trip to Ireland. He claimed to be related to a family of Penns in Penn itself, though this is difficult to prove. He spent some time in his youth visiting the Peningtons in Amersham and one visit was drawn into a religious debate with a local preacher from High Wycombe named Jeremy Ives. It was held in West Wycombe and Penn won the day for the Friends. He married a Buckinghamshire girl, Giulelma Maria Springett of Tilers End Green in 1672. They announced their intention to marry at the Jordans Friends meeting house. He also founded Pennsylvania in America after Charles II granted him land north of Maryland and west of the Delaware River. William named it Sylvania (land of trees), but the name was altered by Royal command to Pennsylvania, in honour of William's father. William was made governor of Pennsylvania in 1682. He went out there to establish the government and found Philadelphia and then returned to England two years later. He died in 1718 and is buried in Jordan's cemetery with his first wife, who died in 1694, and his second, Hannah Callowhill, who died in 1726.
Verneys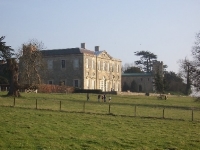 Thomas Verney, second son of Sir Edmund Verney of Claydon House, was born in 1615 and went to Barbados in 1639. He had been sent to Virginia to reform his wayward character in 1634 but was back by the following year. He still needed to be disciplined so his father decided to send him to Barbados. He started a plantation. He was quite taken with the produce and climate of the island and wrote to his father about it. At this date plantation owners used indentured servants, people who had agreed to temporary enslavement, normally to escape poverty. Thomas asked his father to send 'twenty able men' to plant the crops of tobacco, cotton and indigo and to construct his plantation house and buildings, as well as a weaver and a tailor. His father was not convinced Thomas would run the plantation wisely and so did not send him everything he requested, with the result that Thomas got into debt and had to sell most of his plantation and ended up in prison. A friend paid his debts and he came back to Buckinghamshire to try to persuade locals around Claydon to go back with him to Barbados. Some did go but they all got ill when they arrived and Thomas was unable to make a profit. He had to sell his servants, but was ashamed of the fact. When he got back to England he wrote to Will Roads, the steward at Claydon:
"If any of my men's friends do enquire of you ... how they are disposed of, I pray answer them with as much brevity as may be that they are all well and are upon another man's plantation till my return thither again."
Should anyone ask if he had sold these men, Thomas directed Roads to 'tell them it is not so, and endeavour to the utmost of your power to persuade them to the contrary...'
Sugar plantations took over from other crops in the 1640s and the plantation owners switched from indentured servants to slaves from Africa to run them. Because the work was much more labour intensive, the plantation owners couldn't rely on enough people volunteering for slavery, and so enforced slavery took over. Thomas asked his brother (who had inherited Claydon House by this time) to send him back and establish him as a man of substance in Barbados, to no avail (information from an article by Larry Gragg, A vagabond in paradise: Thomas Verney in Barbados, in History Today magazine Vol 45, August 1995).
Rothschilds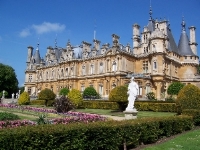 There were lots of branches of the Rothschild family, who were originally from Austria, and one branch had come to England via France in the late eighteenth century. The Rothschilds built some of Buckinghamshire's greatest houses, Waddesdon Manor, Halton House, lots of Waddesdon village for their estate workers, Eythrope, Ascott House, Tring mansion, Mentmore Towers, and Aston Clinton House. They liked Buckinghamshire because of the hunting. The family was Jewish and so were very active in trying to get the laws against Jews in public service repealed. They were successful in this. Lionel de Rothschild was voted in to parliament in 1847 but could not stand unless he took oaths "as a true Christian" which he refused to do. Finally, in 1858 he was allowed to take different oaths and became the first Jewish Member of Parliament.
The Rothschilds (known as de Rothschilds in France and the von Rothschilds in Austria) had made their money in banking and went on to invest in many overseas ventures: a Channel Tunnel from Dover to Calais was started in 1872! - it was stopped when the idea that it would be a threat to England's security gained popularity; the Rothschilds invested in the Rio Tinto copper mines in Spain that then went on to become very profitable; they funded the purchase of shares in the Suez Canal for the British Government in 1875; and they bought personal shares in the De Beers diamond mining company in South Africa in 1887.
See www.rothschildarchive.org for more information.
Click here for more ideas for Putting Buckinghamshire in context.
---