Beachampton
The earliest remains at Beachampton are only visible as crop-marks from the air. Near Mill Farm are a number of ring-ditches that tend to be the ploughed out remains of Neolithic or Bronze Age barrows. Two can be clearly seen, but there may be others that are less visible. It is also known that a Roman road passes through the parish and a few Roman finds have been made along its course.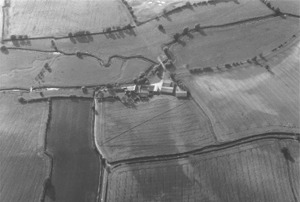 There are historical records of two possible medieval watermills; one at what is now Mill Farm and another at Mount Mill. Documentary sources also tell us about two possible deer parks at Fawley and Hanley and that Beachampton village itself was much bigger in the medieval period and was being depopulated in the fifteenth century. The village earthworks can still be seen, for instance at The Grange.
Some of the standing buildings incorporate medieval fabric. The main one is, of course, the church. This was built in the fourteenth century and the aisles were added in the fifteenth. It had a wooden tower that was built in the seventeenth century but was replaced by the current stone one in the nineteenth century when the church was refurbished. Hall Farm also incorporates some of the fifteenth century house, though it is mainly seventeenth century now. Some of the fifteenth century house was also incorporated into the summerhouse in the gardens. The gardens have traces of the seventeenth century layout. Anne of Denmark is reputed to have stayed here in 1603.
Other buildings and farms in the parish are seventeenth to eighteenth century, some timber-framed. The Old Latin School in Watery Lane is a late seventeenth century building with later additions that is now a private dwelling. Nineteenth century maps record many more field barns at Mill and Grove Farms that have since gone due to the expansion of fields. A later watermill and an old gravel pit marked on these maps attest to the more industrial nature of the Victorian period.
---