Biddlesden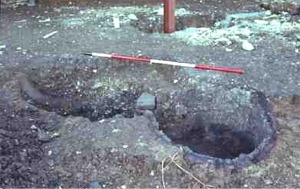 Prehistoric enclosures and ring-ditches have been recorded in aerial photographs taken around the parish. One of the ring-ditches, however, may be a post-medieval windmill mound. Roman ditches and pottery kilns have been excavated. The kilns seem to have been in use in the later first and the mid second centuries AD. A Roman road has also been traced through this parish.
In Biddlesden village much of the medieval record is only known through historical documents, such as the medieval chapel, the Cistercian Abbey and a windmill. Other medieval villages once existed at Evershaw Farm, Gorrell Farm and Silverstone and can be seen on aerial photographs. There are historical records that Evershaw was a separate parish until the fifteenth century. Biddlesden manor house, dovecote, fisheries and associated buildings are also known from documentary sources.
The current Biddlesden Park House, constructed in the eighteenth century is on the site of this earlier house. Most of the outbuildings and garden features are also eighteenth century apart from the nineteenth century lodge. The church that replaced the medieval chapel was also built in the Georgian period as were the houses on the site of the former abbey. Stowe landscaped park has its borders in the parish in the form of a bank and ditch boundary to the deer park, probably dug in the seventeenth or eighteenth century. The latest feature recorded in the database is a World War Two bombing range at Three Parks Wood where there is a tower and some bombing targets.
---