Ashley Green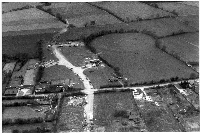 Whelpley Hill Camp may be the oldest site in the parish of Ashley Green. Not much work has been done there, but it may be a Bronze Age ringwork, an Iron Age hillfort or possibly a medieval castle. Another medieval site is Grove Farm. This is on the site of a fortified medieval manor house called Cheynes. The moat still survives, as does quite a bit of the fortified wall and the foundation of a gatehouse. There are historic records of a chapel in the thirteenth century. A fifteenth century timber-framed barn has been converted into the main house. Various spoilheaps of medieval pottery and earth from the moat can also be seen.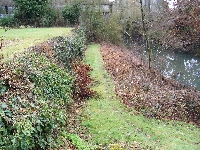 Many of the other listed buildings in the parish date to the seventeenth century. These include the Eagle pub, Sale's Farm, Old Oak Farm and Spencer's Farm. St John the Evangelist church is nineteenth century, as is Thorne Barton Hall, which has a contemporary garden on the Registered Parks and Gardens list.
Also in the nineteenth century the parish was almost taken over by chalk pits, which are at places like Little Grove Wood, Crowfoot Wood, Butcher's Grove, and near Oak Farm Cottages. One of the largest and most recent changes in the parish is Bovingdon Airfield, which was built in 1941-2 and used as an American air base. It was closed in 1972.
---