Fulmer
The medieval manor house was excavated in the 1970s and underneath was found a Mesolithic occupation site, which was unexpected. Four tranchet axe-heads, five microliths, five blades or flakes and 21 blade cores were found. A couple of pieces of Neolithic flint, a knife and an arrowhead, were also found. Two enclosures seen on aerial photographs at Watersplash Farm may date to the prehistoric period, but are as likely to be Roman or medieval.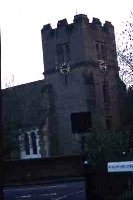 Roman material was found in Duke's Wood. An early second century pottery kiln was excavated, along with pottery and wasters that helped date it so accurately. A nearby pit also contained a brooch and a melon bead. A Roman road is also known to pass through Fulmer.
Fulmer Manor was probably based at Low Farm. There are thirteenth to fifteenth century records of this manor. It is thought that at Domesday it was combined with Datchet. Deserted settlement earthworks exist around Low Farm, and these seem to include a chapel and cemetery as well as the thirteenth century hall-house, probably the manor house, excavated in 1972.
The earliest standing building in Fulmer is St James' church, which dates to the early seventeenth century. The Black Horse pub, however, is of a similar date. Many of the other listed buildings date to the eighteenth and nineteenth centuries, such as Peter Pan Cottage or Fernacres.
There is a little evidence of industry in Fulmer, including a nineteenth century brick and tileworks at Duke's Kiln, and several extraction pits, for instance on Fulmer Common, or at Pickeridge Farm.
---