Watermills and windmills
Introduction
A watermill or windmill is a building designed to hold machinery to grind grain to make flour. Watermills have been in use since Roman times but became markedly more complex with the technological advances brought about by the advent of the industrial revolution in 18th century and different methods of powering machinery led to the general decline of wind and water powered mills.
Watermills
A watermill is an industrial monument in which a set of machinery dedicated to a particular purpose is powered by the motion obtained from a wheel rotated by moving water, the machinery itself being housed in a wooden or stone building. Water management devices comprising leats and tailraces to direct the water from the river to and from the mill in artificial channels are also part of the monument.
Although watermills were in use in Britain in the Roman period, the earliest medieval mill is perhaps that found at Old Windsor, Berks, timbers from which have been dated by dendrochronology to the late 7th century. Mills continued to be built and used in Britain throughout the medieval period and into the post-medieval period. Many mills underwent several phases of reconstruction and were in use for several centuries. Other mills were shorter lived; the Domesday Survey shows that some mills were already derelict by the 11th century.
The distribution of watermills in Britain is usually taken from the Domesday Survey. Mills were widely distributed along the river valleys, but there are notable concentrations and absences. A high density of mills was recorded for much of Norfolk, Suffolk, the Cotswolds and Dorset, where high population densities and/or suitable terrain favoured the watermill. There seems to be an absence of watermills on the large rivers of the Thames, Severn and Trent; these were probably unsuitable for milling. There are records of many watermills in Buckinghamshire, on the River Great Ouse, such as Maids Moreton Mill, and it's tributaries, and those of the Thames, such as Chesham Higham Manor Mill on the River Chess.
In later centuries watermills were used for other purposes, such as paper-making, processing silk and making thimbles. High Wycombe was the centre of paper-making in Buckinghamshire and some mills go back to the early seventeenth century, such as Bassetsbury Mill. There was a silk-mill on Oxford Road in Aylesbury that was active in the nineteenth century.
Windmills
Windmills are towers made of timber, brick or stone with sails to catch the wind and drive machinery inside to perform industrial operations such as grinding corn. The tower mill has a stationary stone or brick tower with a rotating cap so the sails can be turned into the wind, smock mills are similar but have a timber body. Post mills are mounted on a post so that the whole body of the windmill can be turned into the wind.
Many windmills were built on mounds and in prominent areas on the edge of and raised above villages. Often the mound is all that remains of the windmill. Windmill mounds are generally circular, flat-topped with a regular and wide surrounding ditch with a causeway for ease of approach. A windmill mound is known in Wotton Underwood, as one example.
Windmills appear to be a medieval innovation, and there are references to them in thirteenth and fourteenth century documents. Windmills were used for many centuries, often with the structure reconstructed on the same spot, or less commonly, moved to a different location. The windmill at Lacey Green was moved there from Chesham. Other surviving windmills in Buckinghamshire are found at Pitstone, Quainton and Brill.
For more information about watermills and windmills, please go to the Mill Archive website.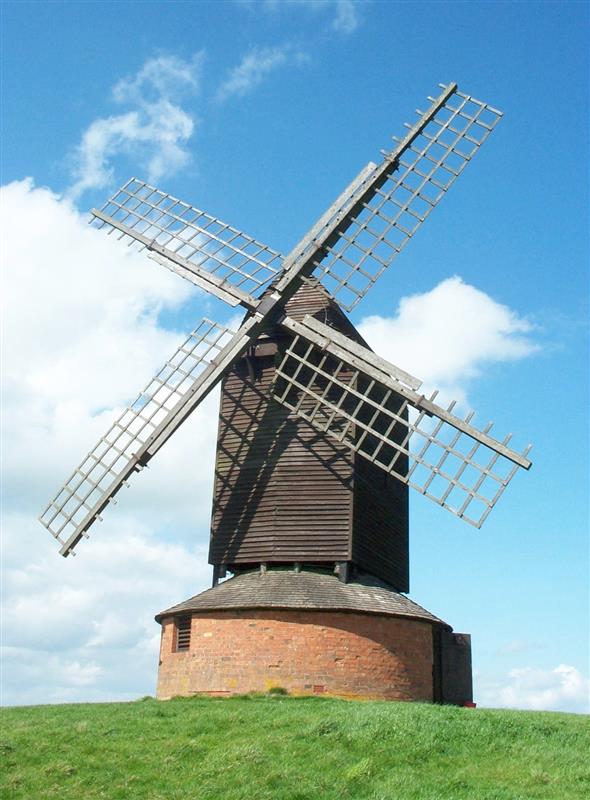 ---