Marsh Gibbon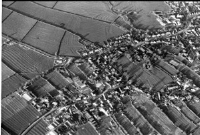 Marsh Gibbon is recorded just as Marsh in Domesday. Gibbon was added later after one of the families who held the manor. The parish was also part of Bernwood Forest from before Domesday. Bernwood had been a hunting forest from the time of Edward the Confessor. It grew to its largest extent under Henry II. The whole area was not covered by woods; in the medieval period a forest was a place where deer roamed for hunting and so included open land, villages and fields. All those who lived in the forest were not allowed to hunt or even gather wood without a special licence from the king. Bernwood Forest was finally disafforested in the reign of James I in 1635, although it had been shrinking in size since the time of King John (1199-1216).
There were two manors in Marsh Gibbon. Westbury Manor was based around the farm of the same name. There is a possible moat or ponds in the field south of the house. Marsh Gibbon Manor House, which is late 16th century, is supposed to have Civil War earthworks in the grounds, but these cannot be identified on the ground. Marsh Manor is also recorded as having a windmill in the 15th century and this may have been sited where a 19th century map marks Mill Hanging Furlong. The same 15th century document records a dovecote. There is also a lot of ridge-and-furrow around the parish, the remains of the medieval farming technique.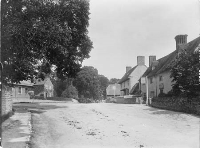 The oldest surviving building in the parish is St Mary's church. It was built in the 13th and 14th centuries and there are also the remains of a 15th century preaching cross in the churchyard. Most of the other listed buildings in Marsh Gibbon date to the 17th and 18th centuries, like the Old Red Lion, formerly a pub, or Box Farm. The Old Reading Room used to be a library but is now a house as well.
One of the most recent additions to the parish was the decoy shelter south of Gubbinshole Farm. It was set up to prevent bombing of nearby Westcott airfield and also acted as a practice bombing range.
---