Lillingstone Dayrell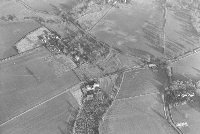 The earliest evidence of human activity in the parish is Neolithic or Bronze Age flints and a hammerstone, found in a ploughed field. A mound on the edge of the parish is possible a Bronze Age barrow, but could be a later boundary marker. Alternatively, it could be a barrow reused in the Saxon and medieval period. Fragments of Iron Age quern and Roman whetstone have also been found. A Roman road runs through the parish and at one point there is an enclosure up against it as seen on an aerial photograph. This enclosure is associated with Roman finds. There appears to have been some Roman settlement in the area. An extensive field walking survey has recovered many finds of a Late Saxon date, suggesting a settlement of this date in the parish too.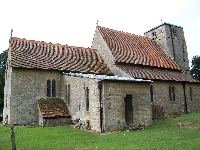 Lillingstone Dayrell was also part of the medieval hunting forest of Whittlewood and earthworks probably dating to this period have been recorded in Wicken Wood. There is not much surviving above ground from the medieval period. The church retains its Norman tower but is mainly thirteenth century, with some nineteenth century rebuilding. The medieval manor house was demolished in the eighteenth century, possibly along with the rabbit warren that was mentioned in the seventeenth century. A fifteenth century chapel belonging to Luffield Priory, which is itself just over the county boundary in Northamptonshire, was made into a dwelling in the seventeenth century but was demolished in the twentieth to make way for the aerodrome that is now Silverstone race-track. The village of Lillingstone Dayrell was once larger, as can be seen by the earthworks of the medieval buildings and fields.
Lillingstone House was built in the nineteenth century and some of the gardens and parkland around retains a nineteenth century character. Tile House, built in the nineteenth century, is now Charmandean School, incorporating the nineteenth century stable block and gardens.
---