Houses (Georgian and Victorian)
Lots of houses were built in the eighteenth and nineteenth centuries. If you walk down any street in any village or town you are bound to see houses of this date. Are there any in your village or town? Do a search on Buckinghamshire's Heritage Portal to find eighteenth or nineteenth century houses in your village or town. Answer the following questions:
How many are there?
When were most of the houses built? e.g. early or late nineteenth century
How many stories do they have, on average?
How many bays do they have, on average? (A bay is defined by number of windows and doors)
Are there any houses with extra space? e.g. cellar, attic, outbuildings
What is the most common building material? e.g. brick, stone, wood
What is the most common roof material? e.g. thatch, tile, slate
Are there any where the exact date of the house is known?
Are there any houses where the designer or architect is known?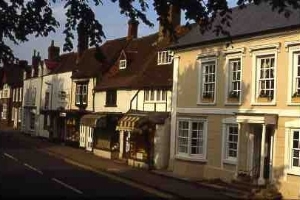 Winslow
Lets take Winslow as an example: there are 44 houses that have eighteenth or nineteenth century building, but only 17 houses that were newly built in the eighteenth or nineteenth centuries. The others were built earlier and altered in the eighteenth or nineteenth centuries. See the table below for a breakdown of the building dates for the 17 houses built in the eighteenth and nineteenth centuries:
| | | | | | |
| --- | --- | --- | --- | --- | --- |
| Early 18th century | Mid 18th Century | Late 18th century | Early 19th century | Mid 19th century | Late 19th century |
| 4 | 5 | 3 | 3 | 1 | 1 |
You can see that building tails off by the mid to late nineteenth century. This was when older buildings were being altered instead of new buildings being built. Do a similar table for the houses you found in your town or village.
All of these houses have 2 storeys. However, the width of the houses (measured by number of bays) is varied. See this table below:
| | | | | | | |
| --- | --- | --- | --- | --- | --- | --- |
| | 1 bay | 2 bays | 3 bays | 4 bays | 5 bays | 6 bays |
| Nº of houses | 2 | 2 | 8 | 2 | 2 | 1 |
Most houses have 3 bays. This is called the mode. The median is 3.5 bays, because this is the central point between 1 and 6. The mean number of bays can be worked out by adding up the number of houses and dividing by the number of options (in this case 6 because there are 6 different amounts of bays that a house could have). 17 divided by 6 is 2.83. All of these are very close to 3.
These houses below from Cuddington (left) and Haddenham (right) illustrate bays: the Cuddington house has three bays (from the windows in the thatch) and the one at Haddenham has four bays (from the four windows on the first floor, or three windows and a door on the ground floor).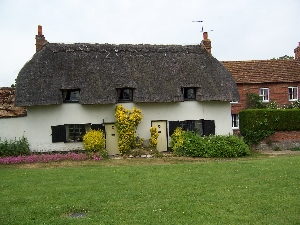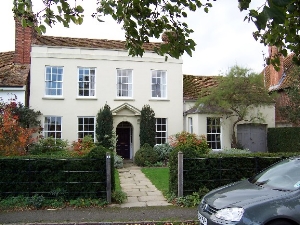 8 of the 17 houses in Winslow have attics, and 5 have cellars: most houses with cellars date to the nineteenth century. 7 of the houses had later extensions. None had outbuildings but one house used to be the stable for the manor house in Winslow.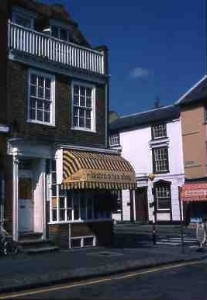 Most houses, 15 of them, were built of brick. The two that were partly timber-framed were probably mainly built of brick. Most of the houses have roofs of tile but 6 have slate roofs. Slate roofs became more common after the railway was built, which could transport building materials from miles away. Slate comes from Wales, Cornwall, Scotland or the Lake District.
One house in Winslow has a definite date and architect. Ernest Newton built Norden House and surgery for Dr Vaisey in 1891. In Winslow many new houses seem to be built in the late nineteenth century or early twentieth century after the railway was constructed (the railway has since been closed). Compare the maps of 1880 and 1919 that your teacher gives you. Colour in the new houses on the 1919 map.
Please contact the Council Archaeology Service for 1880 and 1919 maps of Winslow.
Terraces
Some of the nineteenth century houses in Winslow are not recorded in Buckinghamshire's Heritage Portal database. Only the houses that are listed by Historic England as being of national importance are recorded. So the houses we found in the searches above will probably be bigger and grander than most.
Factory owners built houses for their workers but did not make them very big and tried to squash as many houses as possible together in a small space. Often this meant houses were built in terraces. A terrace is a row of three or more identical houses joined together. Many nineteenth century houses have had lots of later alterations as people tried to make them nicer to live in. Terraces of nineteenth century houses are mainly found in towns.
Look on the Buckinghamshire Photographs website and put the word "terrace" into the "Summary" field. Can you find any pictures of Victorian terraced houses? Remember that some of the pictures of Victorian terraces might have been taken more recently, though the houses themselves are old.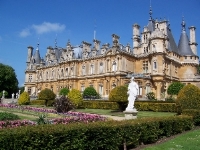 Rich houses
There are also some very grand houses built in the nineteenth century. The Rothschild family built several large country houses. Waddesdon Manor is the most famous of these. It was built between 1874 and 1883 for Baron Ferdinand de Rothschild. It was built by a Frenchman, Hippolyte Alexandre Destailleurs. It was built to look like a sixteenth century French manor.
Do a simple search on Buckinghamshire's Heritage Portal for the word Rothschild and write five other country houses they built in the nineteenth century here:
Answer these questions about the Rothschild houses.
Which of the Rothschild houses is said to be the first one to have been built with electric lighting?
Which of their houses in now a school?
Which house is in Weedon?
Which house was, at one point, the British Seat of the Government of the Age of Enlightenment?
Go back to find out more abour the Rich and poor.
---