Oving
The earliest remains in the parish are some Neolithic to Bronze Age flint flakes found near Oving House. Some human bone was found in the 19th century where the five roads meet in the centre of Oving. It was thought that they were Iron Age but it is difficult to say whether this was accurate. There is also thought to be a Roman road running through Oving parish.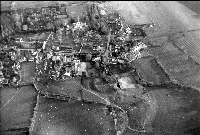 Oving is recorded in Domesday and was part of Bernwood Forest from before that time. Bernwood had been a hunting forest from the time of Edward the Confessor. It grew to its largest extent under Henry II. The whole area was not covered by woods; in the medieval period a forest was a place where deer roamed for hunting and so included open land, villages and fields. All those who lived in the forest were not allowed to hunt or even gather wood without a special licence from the king. Bernwood Forest was finally disafforested in the reign of James I in 1635, although it had been shrinking in size since the time of King John (1199-1216).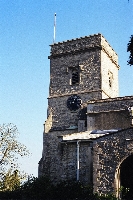 There is a medieval ringwork north of the church that was probably the site of the medieval manor house, although the earthworks have also been interpreted as Saxon or Civil War. The oldest surviving building in Oving is All Saints' church, which dates back to the 13th century. It is thought that the north aisle may have been destroyed in the Civil War.
An eighteenth century map records a field called Mill Piece where there seems to be a windmill mound. A windmill was recorded in Oving as far back as 1291, which might be the same one, or it could be a watermill.
The listed buildings in Oving seem to date mainly to the 17th, 18th and 19th centuries, such as the Black Boy pub and Oving House. The manor house dates back to the 16th century. These centuries brought industry as well. Historic maps show a lime kiln at Home Farm.
---