Leisure (Georgian and Victorian)
New laws meant better working conditions for many, especially children. There was more time to spend on leisure activities in the eighteenth and nineteenth centuries. The railways meant that people could travel around more as well.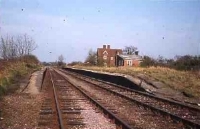 Railway
Look at the early twentieth century map of railways your teacher gives you and a modern railway map and answer the following questions.
If you lived in Aylesbury, what was the route to Bedford?
Could you take that route today?
What was the route to London from Buckingham?
Could you take that route today?
How did you get from High Wycombe to Reading?
Could you take that route today?
So it was actually easier to get around on the trains in the Victorian period than it is today! Some people didn't approve, The Duke of Wellington was certainly against it; he is reported to have said,
'... it will only encourage the lower classes to move about...'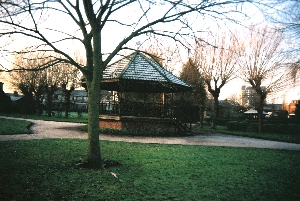 Parks
In towns and cities, where poorer people might have little or no garden of their own, councils and rich people who wanted to do something for the poor created public parks. These were usually laid out as a formal garden with flowerbeds and landscaped park, with lawn and trees, where people could enjoy fresh air, and go for a walk. Other forms of exercise were encouraged with the provision of facilities such as tennis courts and bowling greens.
Some urban parks were formed from countryside, while others were private estates donated (or requisitioned) for the benefit of local people. Their bandstands, boating lakes and flower gardens, avenues, rockeries and lawns were designed, built and planted from scratch. For most of the past 200 years, wildlife in the park came in the form of aviaries, waterfowl collections and pets' corners.
Look for Hazell's Sport's Ground on the Buckinghamshire Photographs website. How is the picture of this park in 1895 different to what you might see in a park today? What kind of people can you see in the park?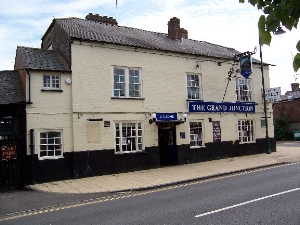 Pubs
Some pubs were built in the nineteenth century specifically for the growing populations in towns. Do a search on Buckinghamshire's Heritage Portal to find some of the nineteenth century pubs in Buckinghamshire, such as the Red Lion in Chenies. Write five down here:
Answer the following questions:
What is the name of the pub built in the early nineteenth century in Buckingham?
Where is the Barley Mow?
What is the name of the former pub in Wendover that is now a house in a terrace of three?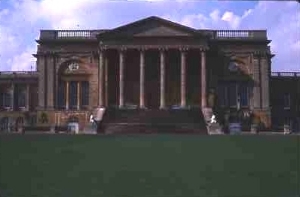 Country houses
The middle and upper classes did not tend to go to the pubs, though they could be seen promenading in the public parks and would probably take the train, first class of course. One favourite pastime in the eighteenth and nineteenth centuries was visiting country houses.
Country houses belonged to the upper classes, the nobility and gentry. If you wanted to see round a house or its gardens, it was possible to ask the housekeeper to take you round. She would usually expect a small fee but you would get a private tour!
Do a search on Buckinghamshire's Heritage Portal for country houses. Write down the names of five country houses you find here:
Several of the country houses have large landscaped gardens. Do a search on Buckinghamshire's Heritage Portal for Stowe in the eighteenth and nineteenth centuries. The landscaped gardens take up nearly the whole of Stowe parish, and bits of other parishes! Find out the answers to these questions:
When was Stowe House built?
Name two of the designers who worked on Stowe landscaped gardens.
Find the building constructed in 1742 as a keeper's lodge. What was it renamed to and why? What happened to it in 1843?
Where was the monument to Captain Cook originally? Where did it move to? Where is it now?
The earliest ha-ha was constructed at Stowe. When was it built? What is a ha-ha?
Who made the statue of George I?
What was the Temple of Contemplation used for from 1762?
Why do you think the Temple family of Stowe wanted such a large and elaborate garden? Write your ideas here: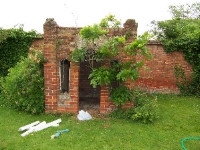 Middle class people were starting to get their own gardens too. They could not be as large or impressive as country house landscaped gardens, but they would be able to impress the neighbours, at least! Do an advanced search on Buckinghamshire's Heritage Portal for nineteenth century and, using the Name/Identifier field, type in garden. Find the answers to these questions:
What does the park at Quainton contain?
Where is the Italian Garden? What other features does it have?
What material was used for garden walls in Haddenham?
When was the castellated wall built around a garden in Great Brickhill? What does castellated mean?
What was built in a Wing garden around 1890?
Do a Simple search using the word garden and tick the box to get only records with images. Answer the following questions. What does the summerhouse in a Whitchurch garden look like?
Sport
Sports that are popular today were also popular in the nineteenth century. Look at the Buckinghamshire Photographs database and put the word sport in the "Activity" field. Try to find all the Victorian pictures and find out the answers to the following questions:
Find the Cholesbury Common Cricket Team. From their clothing, what kind of people do you think they are?
Find the Chesham football club. From the clothing of the coach, what kind of people do you think they are?
Find Tingewick Cricket club. From their clothing, what kind of people do you think they are?
Find George Tutill's works outing photograph. From their clothing, what kind of people do you think they are? What sport are they about to play?
Where is Harewood's Golf course?
Where is the lady playing croquet?
Where are the men jumping hurdles? What kinds of women are watching?
What sports are people watching in Vale Park, Aylesbury in 1900?
What were people doing on the Thames at Marlow?
People in the Georgian and Victorian period also liked their bloodsports. There was a cockpit in the upper floor of the market hall in Market Square in Aylesbury until the nineteenth century. A cockpit was where two cockerels were goaded to fight one another and people laid bets on which would win. This is illegal today.
Where would you rather spend your leisure time? In the pub, visiting a country house, playing sport in the park or getting on a train to a distant location? Write a letter to a friend; imagine you are a person in the Victorian times, and write about what fun you had during your leisure time.
Go back to the Rich and poor worksheets.
---