Historic town of Beaconsfield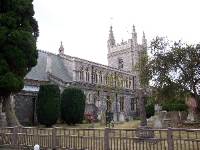 Beaconsfield is not mentioned in the Domesday Book (AD 1086), although as it was later recorded as a dependency of Burnham it is possible that a small rural settlement existed here in the 11th century. Beaconsfield's emergence as a town began with a market grant of 1255 but its early development may have been slow as it was referred to as a hamlet as late as 1346.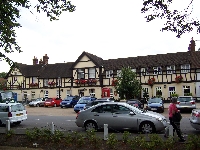 The Old Town is defined by the A40's wide roads with lots of parking which lead into the cross-roads at the junction of High Street, Market Place and Windsor Street. This was probably the medieval market place which could have been established as early as the mid 13th century and was shown on the earliest detailed maps.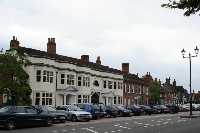 The earliest surviving building in the town is believed to be St. Mary and All Saints' Church built c 1470, replacing an earlier church first recorded in 1238. The Old Rectory of 1536 stands next to the church. Many of the buildings not associated with the church, such as the Saracen's Head at the crossroads and houses down London End, also date to the 16th century and many are beautifully timber-framed. Some have later facades built in the 18th and 19th centuries. Have a wander down London End to see some lovely buildings and explore the many unique shops.
The construction of the railway early in the 20th century led to the creation of Beaconsfield New Town to the north of the Old Town. The New Town is characterised by suburban 'Metroland' housing and a diversity of modern 20th century housing styles. A unique and popular visitor attraction in the New Town is the model village of 'Bekonscot'. The world's oldest model village, it was created in the mid 1920s and opened in 1929.
Click on the link for our parish summary for Beaconsfield. Between 2008 and 2013 the Council Archaeology Service ran an Historic Towns Project for Buckinghamshire and Milton Keynes, and Beaconsfield was chosen as a pilot to test the survey methods, so was the first town to be surveyed! Follow the link to the report on our Historic Towns webpage.
---