Ickford
A fieldwalking survey south of Blackford Lane recovered some Roman pottery (including Samian ware from Gaul), glass and building stone, suggesting the site of a Roman building.
Ickford is recorded in Domesday and was part of Bernwood Forest from before this time. Bernwood had been a hunting forest from the time of Edward the Confessor. It grew to its largest extent under Henry II. The whole area was not covered by woods; in the medieval period a forest was a place where deer roamed for hunting and so included open land, villages and fields. All those who lived in the forest were not allowed to hunt or even gather wood without a special licence from the king. Bernwood Forest was finally disafforested in the reign of James I in 1635, although it had been shrinking in size since the time of King John (1199-1216).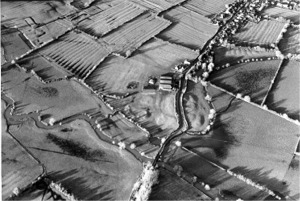 The remains of the medieval farming technique, ridge-and-furrow, can still be seen around the parish. Ickford may have been bigger in the medieval period, as there are the remains of medieval settlement, such as house platforms, hollow-ways and fishponds, south of the village. There is a 14th century record of a fishery in Ickford.
The oldest standing building in Ickford is St Nicholas' church. The remaining work is mostly 13th century but it incorporates some older fabric and was altered in later centuries. Church Farm incorporates some late medieval fabric but was much altered in the 17th century. There are three other late medieval buildings, one on Bulls Lane, College Cottage and White Cottage; they were probably built in the late 15th century and are cruck-framed. Most of the listed buildings in Ickford date to the 17th and 18th century.
Ickford seems to have been defended in the Civil War, or at least the bridge over the River Thame was. The earthworks of the batteries can still be seen south of Whirlpool Farm, although they may also be medieval village earthworks. Ickford Bridge is dated 1685 but may be older. There was a bridge here from at least 1237.
Ickford windmill is marked on a 1788 map and field-names of Big Windmill and Little Windmill from the 19th century also show the approximate site and there is said to be a mound in Big Windmill field. There was a Particular Baptist Chapel with its own cemetery on Sheldon Road, built in the 19th century, but it is now a house.
---