Desk-based assessment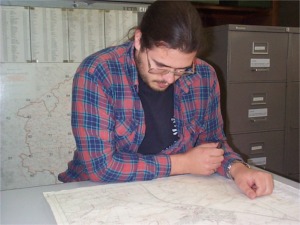 A desk-based assessment is jargon for research. It is undertaken in the evaluation stage of the archaeological project. Archaeologists need to look at historical records of a site before any investigation as these will give pointers as to the type of remains they can expect to find and put what they do find in context. Historic maps may record relatively recent ground disturbance that could suggest that archaeological remains are likely to be damaged, and can give pointers as to the date of any remains found during investigation.
It is also important to look at records of past excavations for the same reason, to have some idea of what to expect. Looking at past excavation reports can also give ideas as to any site-specific problems that can be prepared for in advance. It may also help if there are remains from the earlier excavation that need to be interpreted as well as the remains from more remote periods.
Aerial photographs will also be looked at as part of the desk-based assessment. These give an idea of the changing vegetation in the vicinity of the site in recent years as well as recording archaeological remains in the form of crop-marks, soil-marks, parch-marks or earthworks. Click here for more information about aerial photographs.
Most of these records will be held in the Historic Environment Record but on occasion the archaeological researcher will also have to consult the local record office, in our case the Centre for Buckinghamshire Studies, or the museum, such as Buckinghamshire County Museum. Click here for more advice on these institutions and what material they hold.
A report is often written up after this stage to help inform the project design.
---