Waddesdon in the Victorian period
There are 65 listed buildings in Waddesdon. Listed buildings are buildings that are thought to be very important, either because an important historical event took place there or because they are a very good example of a particular style of architecture.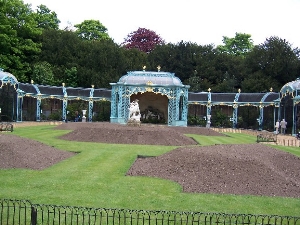 Your teacher will give you a map showing the listed buildings in Waddesdon parish. All the blue spots are listed buildings. They are in three concentrations, one south of the village, one in the village, and one at Waddesdon Manor, which includes all the garden buildings.
Most of the buildings are nineteenth century in date. Out of 65 listed buildings 48 had a nineteenth century component. Here is a bar chart showing the dates of the houses: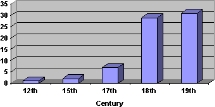 The twelfth century building is the church. Most of the eighteenth century buildings are statues in Waddesdon Manor.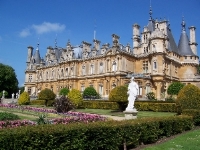 Your teacher will give you a map showing all the buildings with a nineteenth century component in Waddesdon parish. Waddesdon Manor was where most of the buildings were.
The Rothschild family also built many of the nineteenth century buildings in the village to house their estate workers. Many of the buildings were made to look medieval.
The southern concentration is also connected to the manor house, as they are connected to Eythrope House, which is also owned by the Rothschilds.
Go back to find out more about Archaeology in local history.
---