Defence of Buckinghamshire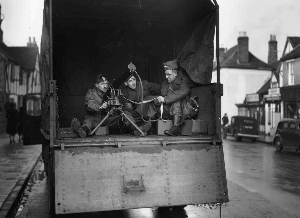 Home Guard
Those who were too young, too old or disqualified from joining the army could still do their bit by joining the Home Guard. Anthony Eden announced plans on the radio for the Local Defence Volunteers, as they were at first known, in May 1940. The sign-up rate was very fast. 158 men signed up in Haddenham within 24 hours of the announcement. There were over 18,000 members of the Home Guard in Buckinghamshire by August 1940.
The Home Guard was established to look out for German parachutists who would be the first wave of an invasion. At first they were supposed to just report any such sightings to the police but, eventually, their job was to try to repel any invaders. There were several places in Buckinghamshire that were thought to be good landing zones for invading German parachutists, such as on Burnham Grove Estate and Trading Estate in Farnham Royal, where the first patrol went out on 28th May 1940.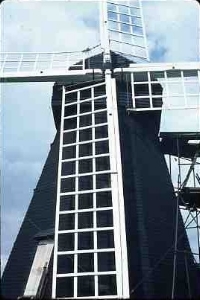 Vulnerable points where it was thought the Germans might launch a parachute attack included airfields, Chequers, aircraft factories, and Bomber High Command at High Wycombe. Some of these places had their own troops but the Home Guard were expected to help if needed.
There were Home Guard observation posts at Lacey Green windmill and Cane End Farm, Bierton. The Home Guard were to look for any possible landings by parachutists, so Lacey Green windmill would have been a very good base, high on a hill overlooking Aylesbury Vale.
Several town centres were called anti-tank islands and plans were drawn up to block all routes into the town centre. Aylesbury, Buckingham and High Wycombe all had plans as anti-tank islands. In Aylesbury, County Hall (now the old County Offices), was meant to be the keep, the central defensive building.
Some people doubted that the Home Guard would be any good in an emergency. A landlord at the Benskins Brewery said in 1941 that they "were more like Boy Scouts than Home Guards". After the Home Guard stopped police and air-raid wardens from reaching a bomb scene in Ballinger in August 1940, the local platoon commander at Great Missenden said that there was "an undoubted tendency among LDV (Home Guard) once they get a little authority on a road to make full use of it" (Beckett 1985, 119).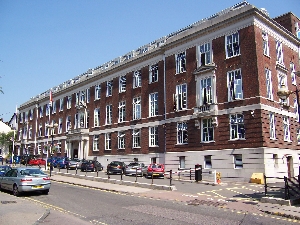 Frank Coleman from Lillingstone Dayrell remembers his dad joining the Home Guard and being drilled in the local school playground. They were told to take their own shotguns at first because the government couldn't supply enough for everyone who joined up. At night they had to look for German parachutists from Akeley church tower or do exercises like map-reading, orienteering and Morse code. At a local road junction the roadside ditch was widened and covered with ivy to make good cover to shoot from at any Germans coming down the roads. The main road was blocked with a tree truck that had a wheel on one end and a pivot on the other so it could be swung across the road to block it (Frank Coleman: WW2 People's War).
Jacqueline Ball remembers being evacuated to Saunderton and her father joined the local Home Guard. One day she came across him whilst he was out on exercises:
"One day, with his colleagues, he was exercising near our house and I recall asking him 'why are you crawling along the ditch with twigs stuck on your helmet?' "Go home" was the embarrassed reply." (Jacqueline Ball: WW2 People's War)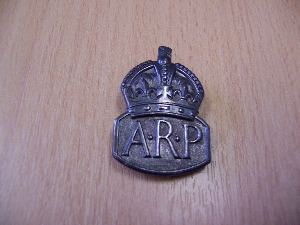 Air-raid Precautions
ARP wardens were in charge of making sure that the blackout was strictly kept and help people get to air-raid shelters during air-raids. Blackout was very important to protect Buckinghamshire, and the rest of Britain. All street-lights were turned off, cars had to have their headlights almost totally covered and houses had to have heavy curtains to prevent any light showing at night and attracting German bombers.
Mrs N Baldwin grew up in Frieth during the Second World War and joined the ARP as a messenger as soon as she was old enough. She was given the uniform of an arm-band and a tin hat but had to provide her own bicycle!
"We were called out on duty every time the siren sounded, and as our area was linked to London, this was almost every night. It was tiring, but I was young, and I can't remember ever having to take a message anywhere. It always provided a good excuse if I failed to do my homework." (Mrs N Baldwin: WW2 people's War).
Joy Park also joined the ARP as a messenger when she was a girl in High Wycombe:
"We had to report to the local banana ripening room and go into the gas room wearing masks just in case. We had to take our own bicycles. Sometimes we could be out all night up to five or six hours, but it became just an every day occurrence." (Joy Park: WW2 People's War)
Pillboxes
Pillboxes were constructed at strategic positions in case of enemy invasion. They were small brick or concrete buildings, often with six or eight sides. There would be small windows in each side to allow men stationed in them with machine guns or rifles to slow the enemy advance. They were called pillboxes because they looked like the containers used for medicinal pills in the nineteenth and early twentieth century. There were many pillboxes in coastal counties and fewer inland, but they were placed at vulnerable areas, like airfields.
RAF Booker in Marlow had six cantilevered pillboxes. A cantilevered pillbox is one where the roof is detached from the walls and supported by a central pillar, leaving an opening allowing a 360-degree field of fire. The Territorial Army blew up some of the pillboxes at Marlow in 1995.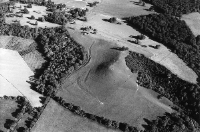 Anti-aircraft batteries
Anti-aircraft batteries were places where large guns or rocket launchers were set into the ground, usually with concrete, to fire on enemy aircraft if it flew over Britain. There are many sites where there were anti-aircraft batteries in Buckinghamshire, such as on Beacon Hill in Ellesborough. That one was to protect Chequers, where Winston Churchill did all his planning.
Please contact the Council Archaeology Service for a copy of a 1955 vertical aerial photograph of Chandler's Hill.
Another is on Chandler's Hill at Iver Heath. There were 13 huts for the soldiers manning the guns, but only the floors of these survive. The guns have all gone as well. In 1955, ten years after the war had ended, Chandler's Hill anti-aircraft battery was just being dismantled. There were still several huts, including a guardhouse and some of the accommodation huts, two of the four gun emplacements, a gun store and a magazine (a building for storing ammunition).
Barrage Balloons
Barrage balloons were to protect vulnerable sites from being dive-bombed by enemy planes. One or more cables secured a large balloon to a concrete block or wagon. If a plane flew into the cable it would be badly damaged and probably destroyed. The balloons were often made to fly up to 5000 feet, which meant enemy planes had to fly higher than that and therefore weren't so accurate. They were put up around the Houses of Parliament in London to protect them.
The Women's Auxiliary Air Force was often in charge of barrage balloons. They had to winch them down in bad weather and weight the cable so they didn't get loose and fly away. If enemy planes burst them the women would have to inflate a new one with hydrogen and put it up.
Nine concrete blocks with metal loops in the top were identified at Silverstone racing circuit. They were probably the moorings for one or more barrage balloons to protect the RAF airbase that was there during the Second World War.
Questions
From other worksheets you have done, try to think of some other vulnerable places in Buckinghamshire that would have to be guarded by the Home Guard, anti-aircraft batteries, pillboxes or barrage balloons.
Can you think of any other defensive features that could have been built or dug to protect Buckinghamshire?
Why do you think so many men wanted to join up to the Home Guard?
Can you think of any other good places the Home Guard could have used to spot any enemy aircraft?
Why do you think some people did not take the Home Guard seriously?
Do you think it was fun for Mrs Baldwin and Joy Park to join the ARP? What were the good things? What were the bad things?
Go back to find out more about Buckinghamshire in the Wars.
---