Comparing monuments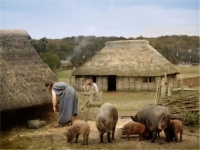 Comparing archaeological monuments in Buckinghamshire to the rest of the United Kingdom and the world, using Buckinghamshire's Heritage Portal; PastScape; Historic England's database; Archaeology Data Service; Coflein; the Northern Ireland Sites and Monuments database ; World Heritage Sites:
Bam in Iran, a World Heritage Site, is of a similar date and is a great site to compare to Saxon settlements and towns in Buckinghamshire and Britain, such as the settlement of a similar date at Walton Court, Aylesbury and the Saxon and Viking town of York.
Roman barrows at Thornborough and the Bronze Age barrows around Ivinghoe Beacon hillfort can be compared with the Roman Bartlow Hills barrows and the Bronze Age Wessex barrows in Britain and Native American (First Nation) burial mounds in the US and Canada www.virginiaplaces.org/burialmound.html or Scythian burial mounds in Russia, found on the World Heritage Site website.
Click here for more ideas for Putting Buckinghamshire in context.
---