Enclosure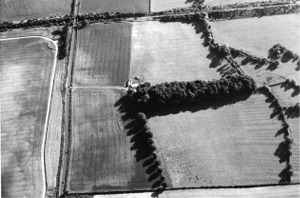 An enclosure is an area of land contained within a boundary feature such as a ditch and/or a bank. Today, enclosures often survive as earthworks or cropmarks, and many are only visible from the air in aerial photography. Enclosures can date from the Neolithic period through to the present day but many have their origins in later prehistory.
A number of different terms are used to describe enclosures, dependent on their shape and form, such as curvilinear, rectilinear, banjo or causewayed. The function of many of the enclosures is uncertain; most have never been comprehensively investigated. Many are thought to have been domestic but they may also have been used for defensive, agricultural, ceremonial and commercial purposes.
A medieval earthwork enclosure associated with Snelshall Priory in Buckinghamshire can be seen on Whaddon Chase, while another enclosure dating to the post-medieval period has been seen in aerial photography at Great Kimble.
---