Allies and enemies
Buckinghamshire hosted foreign governments, armies, air forces, hospitals and prisoners of war during the Second World War.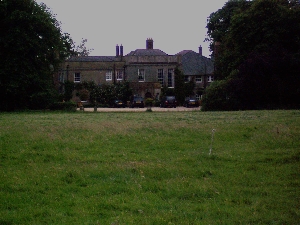 Czechoslovakian government
Parts of Czechoslovakia were given to Germany in a treaty of 1938. Then Hitler wanted more and invaded another part of the country. The Czechoslovakian president, Edvard Benĕs, fled to England. He lived in London for a while but moved to Buckinghamshire during the Blitz. He lived at The Abbey in Aston Abbotts while working in London.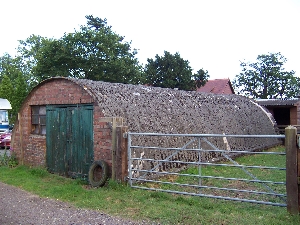 A platoon of the Czechoslovak army was stationed there to protect him. They lived in tents until Nissen huts were built for them.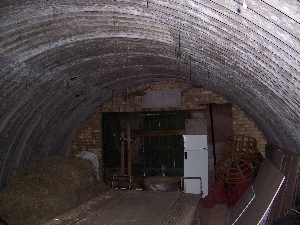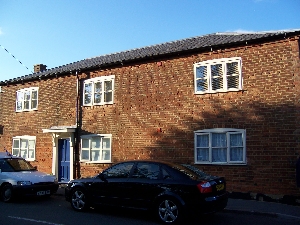 The guards liked to go to the Bull and Butcher pub in Aston Abbotts and learned to play darts there but their favourite was the old Bull's Head in Aylesbury.
Some of the President's officials stayed in The Old Manor House in Wingrave. The top members of the Czechoslovak Military Intelligence staff also escaped the Blitz by moving to Addington House in Addington.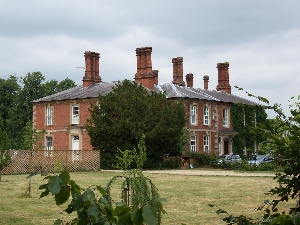 The Czechoslovakian government had offices in London. The president planned resistance in Czechoslovakia from Buckinghamshire until 1945. In 1942 two Czechoslovakian agents were sent on an assassination mission to Prague; they were later captured and killed. Roses planted in Aston Abbotts churchyard commemorate their death.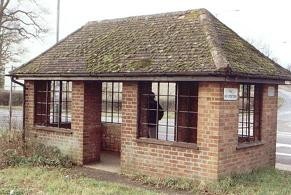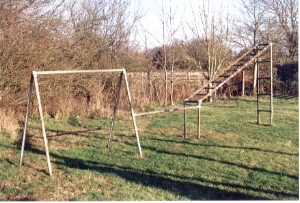 President Benĕs was very grateful to the inhabitants of Aston Abbotts and Wingrave so when he left he had a bus shelter built for them. He also used to visit the local school and gave them a donation of £100 and a globe of the world. The money was spent on a climbing frame, which was later moved to the recreation ground when the school closed in the 1970s. The climbing frame has now been replaced.
In 1944 President Benĕs celebrated his 60th birthday in Aston Abbotts. He knew that the war was soon to be over and he would be able to go back to Czechoslovakia. The president's friend, Bruce Lockhart, made a speech that evening and said:
"In this little English village the small Czech community that surrounds the President are greatly liked and respected, and in a district which the devastating hands of war has not yet touched, the villagers regard the Czechs as their special war protégés. Here the Czechs will leave behind them a reputation for cleanliness, fair dealing and scrupulous regard for English law and order... One day I feel that the President and his wife will look back with kindly thoughts on this English village which has been their enforced home. It will not forget them."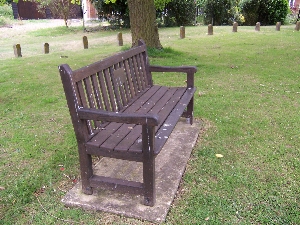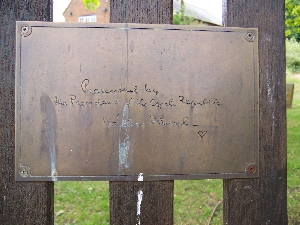 The President of the Czech republic, Václav Havel, made a state visit to Wingrave in 1998. There is a bench on the village green in Wingrave commemorating his visit.
(Information from Rees, N, 2005. The Czech Connection. Chesham: Neil Rees)
Polish government
Poland was invaded by Germany and the Soviet Union in 1939. Britain declared war on Germany after this. The Polish head of state, General Sikorski, escaped to Britain and stayed in Iver Lodge. Some of the Polish army also escaped and set up a camp at Langley House and Park.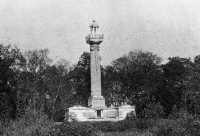 It is said that the Polish army practised shooting mortars at the monument in Langley Park. After the war the monument had to be taken down because it was structurally unsafe. Recently, unfired mortars and other ammunition were found dumped in a pond in Langley Park.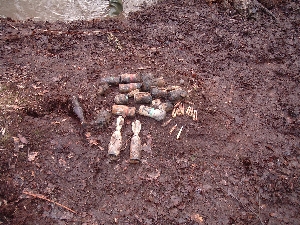 There were also Polish troops stationed in Penn Wood and serving in the RAF at Wing and Halton.
American forces
The USA joined the war against Hitler in 1941. They fought against the Japanese in the Far East. They also sent army and air force troops to Britain to help in the attacks on the parts of Europe that were occupied by German and Italian troops.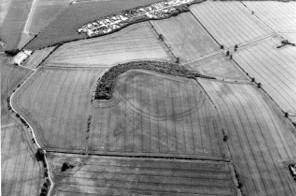 Cheddington
The USA Air Force was stationed at Cheddington airfield from 7th September 1942. It was not thought to be a very good airfield as it was surrounded by hills (one of which has an Iron Age hillfort on it), which made taking off and landing very difficult. Several planes had crashed during training and many airmen had died.
At first, the USAAF wanted to use Cheddington as a base for flying large planes called Liberators, which would drop heavy bombs in Germany and other places. However, it wasn't big enough for that and was soon turned into a training camp. The trainees dropped propaganda leaflets across Europe.
Wycombe Abbey
Part of Wycombe Abbey School was taken over by American troops in 1942. Some huts were built to house the troops on the lacrosse pitch. The soldiers were popular with local girls and many of them started going out with Americans. The soldiers had a smarter uniform than British troops and had more money and could get hold of nylon stockings, which were very difficult to find in England. Eventually some couples were married.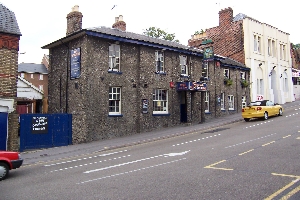 One pub in High Wycombe became the American's favourite. It was Flint Cottage, now opposite the train station. It was easy to find from Wycombe Abbey School, down one hill and up another, and it had a "Yank's Bar" in the back. Glenn Miller played his last concert at Wycombe Abbey before he died in a plane crash.
Bovingdon
The USA Air Force had one base at Bovingdon, on the Hertfordshire, Buckinghamshire border. They took the airfield over in August 1942, though it was not handed over officially until April 1943. It was a base for heavy bombers to go on daylight missions to occupied Europe. The RAF did the night missions as they had radar. The first target was an aircraft factory in Meaulte, France, on 6th September 1942. Two planes were lost and several people died. The base also ran training for heavy bombers.
The Americans didn't like the airfields very much, saying the barracks were dirty, there were no facilities and the food was very British and they didn't like it! Eventually they integrated into British life and would visit English families in Bovingdon village and go to the pub.
The film star Clark Gable was a Captain in the USAAF and broadcast from Bovingdon airfield to America to urge people to buy War Bonds, which would help raise money for the war effort. James Stewart, another film star, served at Bovingdon. Glenn Miller and his band were also visitors and would play for the airmen.
Jacqueline Ball remembers having American servicemen to stay when she was evacuated to Saunderton. They were welcome as they kept everyone's spirits up and brought gifts of sweets for her and her sisters and stockings for her mother (Jacqueline Ball: WW2 People's War).
Roger File from High Wycombe remembers that the town had a mixture of people there: "the wartime influx of Londoners and locally-based servicemen, especially Americans and Poles, gave Wycombe a cosmopolitan stir that radically changed its outlook and social mix… for the better" (File 2001, 75).
Commonwealth forces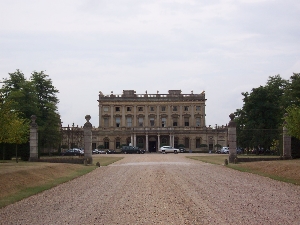 The Astors, who owned Cliveden House, asked the Canadian Red Cross to build a hospital to treat the wounded of the First World War in 1914. The Canadians rebuilt the hospital in 1940 for use in the Second World War.
Canadian, Australian and New Zealand airmen were trained at Wing airfield. J.H. Berry was a pilot at Wing who had to organise his own crew in July 1943. He got a navigator and they both found the rest of the crew together. The last remaining member of the team was a bomb aimer and only Canadians were available. He said "my navigator wasn't best pleased with the thought! But get one we did." (J.H.Berry: WW2 People's War).
New Zealand airmen were also stationed at Oakley airfield. Ronald Maryan was a Londoner stationed there who fell for a local lady called Barbara. She liked a Maori airman at first but soon agreed to go out with Ronald. They married in 1944. The New Zealanders were welcomed into the local villages and pubs and would hold sing-a-longs, often in Maori (Ronald Maryan: WW2 People's War).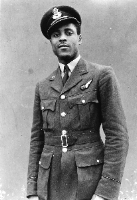 Johnny Smythe joined the RAF when he knew the British were going to war with Hitler. He was from Sierra Leone and was incensed by Hitler's treatment of black people. He was trained at Westcott airfield and flew raids into Germany. On one he was shot down and spent the rest of the war in a prisoner-of-war camp in Germany. Later in life he came back to England with his wife and children and settled in Thame.
King Zog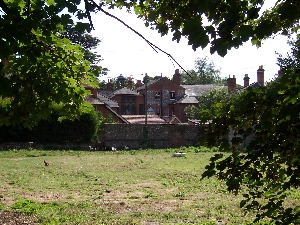 King Zog of Albania fled his country when Mussolini invaded in 1939. He had been the president, Ahmed Zogu, but had been made king in 1928. He and his family travelled through Greece, Turkey, Romania, Poland, Sweden, Belgium and France before coming to Britain. They spent some time at the Ritz in London before renting Parmoor House, Frieth in Buckinghamshire. His retainers lived in Little Parmoor. After the war Parmoor House became St Katharine's Convent and is now owned by the Sue Ryder Prayer Fellowship.
He did not always treat the house with respect, as a quote from the period shows: "To the consternation of the guests, King Zog's goat, which lived in the house, strayed into the dining room during a dinner party and proceeded to eat the tablecloth, causing all the dishes to crash to the floor".
As well as a goat, His Highness also kept his dogs in the house, bathing them in his enormous bath, which is still extant. However, the hygiene of the upstairs room in which the dogs lived obviously left something to be desired, because rats became a problem. When it was found that they were getting in by climbing up the creeper, which covered the external walls, the creeper was stripped from the house.
They were visited by Auberon Herbert who reported that King Zog "did nothing but nurse his majesty and take tiny Parisian walks". After the war Albania became communist and was declared a republic so King Zog couldn't go back. He died in exile in France in 1961.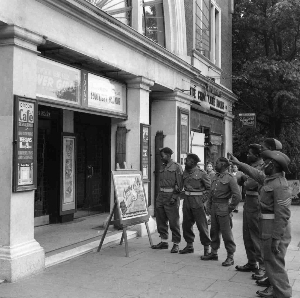 Prisoners-of-war
Prisoners-of-war were captured during battles abroad and brought to Britain to make the enemy armies smaller. During the Second World War the main enemies were German, Italian and Japanese; the prisoners-of-war in Britain were mainly Germans and Italians.
Buckinghamshire had lots of prisoner-of-war camps, many for Italians, such as Shalstone near Buckingham; Hartwell "Dog Track"; Quainton; Chalfont St Giles; Stoke Poges and Burnham Beeches. Germans were held at Aston Abbots and Little Marlow and there were other camps at Hitcham Park near Burnham; High Wycombe; Speen and Westhorpe Park.
Hartwell Dog Track was used as a prisoner-of-war camp from 1942 to 1946. The prisoners held there were Italians captured in North Africa, such as Giovanni Scaringi who was 28 when captured in Keren, Ethiopia in 1941 and was held at Hartwell from 1942 to 1946.
Hazel Taylor grew up in Aylesbury during the war and, as a girl, remembers the Italian prisoners-of-war at Hartwell. They were allowed to leave the camp after a while, though they had to wear a brown uniform with a large yellow or orange patch on the back to identify them as prisoners-of-war (Hazel Taylor: WW2 People's War).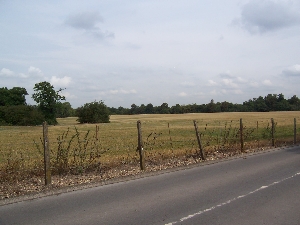 Sometimes high-ranking soldiers were captured who might have useful information about enemy strategy. These prisoners were taken to Wilton Park near Beaconsfield for questioning. The White House was a classical style mansion and was taken over as an officer's mess for staff and interrogators. Nissen huts were built for lower ranking staff. The prisoners themselves were housed in concrete and brick cells. High-ranking German officers like Marshall Messe and Rudolph Hess were held here.
Susan, a German Jew, had managed to escape Breslau in Germany (now Wraclow in Poland) before the war in 1939 and came to live in London. She found work looking after a friend's children and decided to join the army, working for the Auxiliary Territorial Service. She happened to meet an old friend from Breslau who had a job in Intelligence Services where knowledge of German was useful. Susan took an interview and managed to get a job too. She ended up dealing with the papers of German prisoners-of-war in Buckinghamshire, probably at Wilton Park. On one occasion she came across the papers of her old English teacher from Breslau and put in a good word for him (Susan: WW2 People's War).
Most prisoners-of-war were put to work on the land or in factories. Grove Farm in Chesham got help from Italian and German prisoners-of-war. The Germans were very good workers. The farmer, Tony Harman, recalled some British troops escorting German prisoners-of-war to his farm one day and promptly relaxing in the next field whilst the Germans worked. Tony asked whether the Germans should be guarded and was told that the German corporal who was with them would make sure they didn't escape (Harman 1986, 177)!
Prisoners-of-war were well treated according to international law (the Geneva Convention). Some people complained that the prisoners-of-war were being treated better than other workers. Read this extract from a meeting in Newport Pagnell (in Milton Keynes) in 1945:
"canteens of hot food arrived in the middle of the day for prisoners of war, whereas our own men who were standing by did not even get a cup of coffee. Our men in the fields work to feed these people and get infinitely less rations than they do." (BRO 1995, 14).
Please contact the Council Archaeology Service for aerial photographs and maps showing the location of Hartwell Dog Track: A map from 1938 shows two square fields against the road to Aylesbury next to the Bugle Horn pub. This was where the prisoner of war camp was built. A 1946 vertical aerial photograph shows the layout of the prisoner-of-war camp, while the modern map shows that the original two fields have been built on with a new housing development.
Questions
How did the inhabitants of Aston Abbots and Wingrave treat the Czechoslovaks?
How does the Czech Republic view the years its president spent in Buckinghamshire during the Second World War?
Do three drawings of Hartwell Dog Track before, during and after the prisoner-of-war camp was there. Use the maps and aerial photographs from the Council Archaeology Service as a starting point for the layout of your pictures.
Do you think it is fair that prisoners-of-war were given better food than other workers? Imagine you are a member of the government trying to explain to the people of Newport Pagnell why prisoners-of-war are treated so well and write a speech to give to them.
Some prisoners-of-war stayed in Buckinghamshire after the war had ended. Can you think of any reasons why they would want to do this?
Go back to find out more about Buckinghamshire in the Wars.
---