Waddesdon findspots
There are 23 findspots in Waddesdon parish. They range in date from the Mesolithic to the medieval periods. Because there were so few findspots the finds could all be displayed on one map.
Your teacher will give you a map showing all the findspots in Waddesdon. All the blue dots are findspots. You can see Waddesdon village to the top of the picture with Waddesdon manor to the left. There are two concentrations of finds. One at Wormstone, south of the village, and one north of Waddesdon Manor.
Your teacher will give you a map showing the detail of the finds at Wormstone Farm. Saxon and medieval pottery and a medieval stone wall have all been found here. This might suggest that there has been a building at Wormstone Farm back to the medieval period, and maybe even the Saxon period.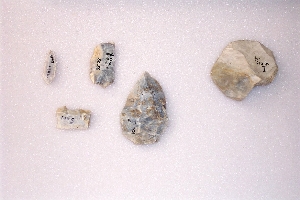 Your teacher will give you a map showing the findspots at Waddesdon Manor. The Roman pottery found here was quite close to the Roman road that passes through Waddesdon known as Akeman Street. This Roman pottery might mean that there is a Roman building or burial somewhere nearby.
The prehistoric flint might be from a passing visit as many prehistoric groups moved about a lot. Saxon pottery may have come from Waddesdon itself, which was a village in the Saxon period. It is possible that Saxon pottery could get thrown into the rubbish dump that was then used for fertilising fields.
Go back to find out more about Archaeology in local history.
---